We Pay More Cash for Cars in Memphis, TN
Junk your car to Memphis's #1 cash for cars service that gets you up to $500 more.
Get a fast offer with our best price now:
We Buy Junk Cars for Cash in
Memphis
JunkCarMedics.com is here to take care of that headache for you by buying your junk car. That's right, we buy junk cars in Memphis and pay top dollar, more than any other junkyard in Memphis. If you search all over Memphis for a better deal or service, you won't find.
There is nowhere else that are better junk car buyers in Memphis than us. There are lots of buyers out there who promise you money or may even give you a great quote, but then attach hidden fees to lower the amount of money in your hands at the end of the deal. Junk Car Medics won't treat you like that; we provide great, friendly customer service with no hidden fees.
The process is simple. Even if you want to donate your car to charity.  You call us and provide information about your junk car. We quote you a price and send out a tow truck to complete the deal. We give you your payment on the spot and take your vehicle away.
Junk Car Medics Memphis
Memphis, TN 38116
(855) 587-0227

Calling Hours:
Call For Quote 24/7
Business Hours:
Mon-Fri: 8 am – 7 pm
Sat: 8 am – 2 pm
Sun: Closed
Top rated junk car buyers.
How to Sell Junk Cars in
Memphis, TN
Sell junk cars in Memphis, TN with our quick, easy, painless process. Get up to $300, $500, even $1,500 cash for junk cars, old cars, damaged cars, and used cars.
Here's how it works:
Step 1: Get an Instant Offer Online or by Phone
We'll ask you a few basic questions about your car's condition, mileage, and whether you have the title.  It's a quick process that'll take less than 2 minutes to complete, and you'll get a fair market offer to junk your car.
Step 2: Accept Your Offer and Make Arrangements
After you accept your offer a representative will contact you to make arrangements for the removal of your junk car.  Towing and removal are free of charge.
Step 3: Get Paid More For Using Junk Car Medics in
Memphis
Upon pick up, sign over the title, hand over the keys, and you'll get paid on the spot with a check for your car.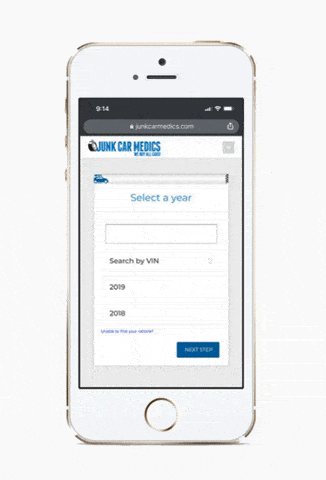 Why Junk My Car with Junk Car Medics in Memphis?
Jon S. - Junk Car Medics Customer
I was trying to get rid of my 2008 GMC 1500 that needed a new transmission. Out of 8 different company's not only was there online quote fast and simple but they offered the best and highest price. When accepting the offer they made it easy with no complications. I scheduled my appointment and the driver came by the next day to remove it and pay me. If you are trying to get rid of your junk car they are the ones I recommend!
Memphis Junk Car Prices
Over the last 12 months junk car prices in Memphis, TN decreased 7% on average for vehicle year models 1998-2008, the most commonly junked years! Let's take a look at some of the numbers:
Most Common Junk Cars in Memphis
2012 Chrysler 200 - $477.50
2003 Honda Accord - $646.25
2006 Nissan Altima - $183.33
2005 Nissan Altima - $276.67
2005 Ford Five Hundred - $80.00
2008 Hyundai Elantra - $412.50
2007 Nissan Sentra - $345.00
2013 Ford Focus - $900.00
2000 Nissan Maxima - $40.00
2008 Dodge Charger - $520.00
Junk Car Prices in Memphis by Year
2000 - $288.33
2001 - $301.67
2002 - $307.19
2003 - $425.71
2004 - $367.89
2005 - $385.26
2006 - $312.32
2007 - $366.90
2008 - $622.50
2009 - $733.64
10 Junkers Worth Over $500 in Memphis
2000 Ford F-350 SD - $1,070.00
2004 Toyota Tacoma - $1,930.00
2005 Infiniti FX - $1,502.50
2006 Ford Expedition - $1,135.00
2007 BMW 5-Series - $1,545.00
2008 Chevrolet Suburban - $1,525.00
2008 Ford F-150 - $1,570.00
2009 Dodge Challenger - $1,925.00
2009 Lexus GS 450H - $1,035.00
2009 Nissan Maxima - $1,795.00
The #1 Junk Car Removal Service in Memphis
JunkCarMedics.com is not some fly-by night job. We want to pay you the best value for your vehicle in Memphis. We won't make promises that we won't keep. We even suggest you do certain things to protect yourself:
Have the title of the vehicle in hand.
Provide proof of ownership like the vehicle registration.
Remove the license plates and return them to your local DMV office.
We are here to provide you fast, easy, and quality service. Our philosophy is to treat your automobile problem with the same care that a doctor would for your body. That's why we're Junk Car Medics. This deal is about you. You are the one getting rid of a junk car in Memphis. You are the one getting paid the best price for that car. You are our customer, not just any buyer.
Want to Know the Best Part?
We pay you to remove your junk car in Memphis. Not only do we pay you, we pay you top dollar for your clunker. You reap the benefits. That junk car is taken away and you get money for having it done by quality professionals. There's not a better deal in all of Memphis, Tennessee. Give us a call or check us out on the internet. We are the best option for getting paid for hauling off your vehicle. Contact us today!
Do I Really Need a Title?
You really should have the title anytime you sell a vehicle in Memphis because you want to make sure that your name is taken off the vehicle. Transferring the title removes you from liability regarding your junk car.
Who Else Buys Junk Cars in Memphis?
There are many junkyards in Memphis only interested in making a quick buck. Junk Car Medics is interested in easing the frustration you feel from having that car just sitting there. Why have an automobile sitting around when the Junk Car Medics will pay you to remove it?
Are There Any Fees?
JunkCarMedics.com buys your car. You get paid; you don't have to pay. We even buy clunkers that don't run. Towing is free.
Do You Guarantee Your Services?
JunkCarMedics.com is concerned about your junk car removal needs in Memphis. We also care about our reputation. We provide a 100% Satisfaction Guarantee. If you're not satisfied with your service, we'll make it up to you.
Call Junk Car Medics Cash for Junk Cars Service in Memphis, TN Now!
---
We buy cars in the following zip codes in Memphis: 37501, 37544, 38101, 38103, 38104, 38105, 38106, 38107, 38108, 38109, 38111, 38112, 38113, 38114, 38115, 38116, 38117, 38118, 38119, 38120.
Recent Purchases By Our Junk Car Buyers in
Memphis, TN
2008 Buick Lucerne

38109
$565
08-23-2022
2006 Infiniti M

38107
$715
06-14-2022
2015 Hyundai Accent

38109
$880
05-23-2022
2002 Lexus ES 300

38107
$805
05-16-2022
2012 Chrysler 200

38106
$535
04-29-2022
2012 Dodge Charger

38106
$845
04-27-2022
2002 Chevrolet Tahoe

38108
$740
04-25-2022
2002 Lexus GS

38107
$585
04-14-2022
2002 Ford Explorer

38109
$80
03-15-2022
2002 Lexus ES 300

38109
$80
03-09-2022
2002 Chevrolet Tahoe

38108
$80
03-08-2022
2002 Nissan Altima

38106
$80
03-07-2022
2008 Volkswagen Jetta

38106
$685
03-02-2022
2008 Nissan Maxima

38109
$615
02-24-2022
2007 Pontiac Torrent

38109
$80
02-21-2022