We Buy Junk Cars for Cash in Atlanta, GA
Sell Your Car in Atlanta, GA
From Your Screen
Fast, simple, pain-free way to sell cars for cash
Get a fast offer with our best price now:
The Best Cash for Cars Buyer Atlanta Offers
How Junk Car Medics Works
Junk Car Medics makes getting the best price in cash for cars in Atlanta, GA fast, simple, and painless without hassle.
Get up to $500 cash for junk cars and up to $5,000 cash for used cars.
How We Buy Cars & Junk Cars in Atlanta, GA
1. Tell Us About Your Car

Answer basic questions about your vehicle online or by phone.  Simple.

2. Get Your Price Instantly

Get an instant offer with the best price for your vehicle. Fast.

3. Get Paid

Schedule removal and get paid on the spot for your car! Painless.
Jon S. - Junk Car Medics Customer
I was trying to get rid of my 2008 GMC 1500 that needed a new transmission. Out of 8 different company's not only was there online quote fast and simple but they offered the best and highest price. When accepting the offer they made it easy with no complications. I scheduled my appointment and the driver came by the next day to remove it and pay me. If you are trying to get rid of your junk car they are the ones I recommend!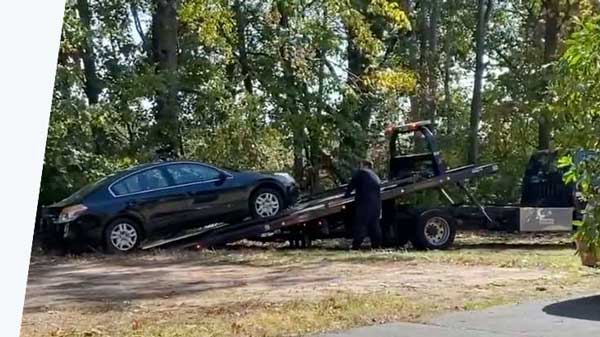 How much money you will get to junk a car can vary based on the vehicle and goes up and down but you can expect about $200 - $500 cash for your junk car.
Factors that help determine the price of your vehicle include the vehicle condition, completeness, damage, and weight.
Our car buying service purchases used cars, totaled cars, damaged cars, junk cars, clunkers, cars with mechanical problems, old cars, and end of life vehicles.  We buy all cars.
To get an offer you will need to answer a few questions about the condition of your vehicle as well as a current odometer reading.  Having the VIN will speed things up.
To sell your car you will need the title and keys.  If either of both of those are missing please call us for assistance.
It depends on your vehicle and the demand for its parts. Current junk car prices range between $150 - $550 on average in Atlanta.  Get an instant, no-hassle offer to see what your car is worth.
Used Car & Scrap Car Prices and Resources in Atlanta
Top 7 Used Cars in Atlanta, GA
Chevy Cruze - $1,945.00
Infiniti G35 - $1,180.00
Hyundai Sonata - $938.75
Mitsubishi Mirage - $807.50
Dodge Avenger - $880.00
Honda Fit - $800.00
Kia Sedona - $695.00
Top 7 Junk Cars in Atlanta, GA
Pontiac G6 - $280.00
Nissan Altima - $272.50
Toyota Avalon - $260.00
Lexus ES - $260.00
Buick LaCrosse - $215.00
Chrysler 300 - $225.00
Nissan Pathfinder - $245.00
Sell Your Junk Car to Atlanta's #1 Cash for Cars Service
If you come to the capital of the Peach State, be prepared for a unique experience. Chances are you've been here already since Atlanta is home to one of the busiest airports in the world. Hartsfield-Jackson International Airport handles over one million flights every year.
Step out of that airport, and you'll discover why the city's nickname is "Hotlanta." The average temperature in the city is as high as 89 degrees in the summer. That might not seem very hot until you factor in the humidity. It can be upwards of 80% on a hot day!
Despite the heat, there are a million ways to cool off in Atlanta. Grab a glass of sweet tea and head to the Georgia Aquarium. It's one of the largest aquariums in the world and the only place outside of China to see a captive whale shark.
If land-dwelling wonders are more your speed, don't miss out on DragonCon. This multi-hotel convention brings in over 80,000 fans of everything from Sci-Fi to Anime. They descend on the city over Labor Day weekend, kicking things off with a costumed parade.
There's more to Atlanta than bustling attractions. Since the city is nearly 50% trees, it's easy to find a shady spot in a park. Piedmont Park is one of the city's most extensive patches of greenery, with over 185 acres to bike, skate, and run on.
People in Atlanta do love to get around, and most of them do it by car. Whether it's commuting to a skyscraper downtown or taking a day trip to Stone Mountain, you won't get far without a vehicle. 
If your old car is no longer helping you get around, contact Junk Car Medics. We buy cars in any condition without the hassle or runaround of going through private buyers and car dealerships. You can get a quote in minutes and have your car sold in hours. 
Every step of our process is fast, simple, and pain-free. We aren't afraid to give you the facts upfront. We'll clearly explain our offer and our services so you won't be surprised by hidden costs or obligations.
So if your car conked out in Spaghetti Junction and you need to sell it fast, go to Junk Car Medics. We're America's #1 junk car buyer. Our priority is becoming your go-to trusted advisor for used car sellers.
Members of both the Automotive Recyclers Association and the Georgia Automotive Recyclers Association, we'll make sure to handle your car responsibly even after it leaves your hands.
Junk Car Medics in Atlanta, GA
Junk Car Medics
Atlanta, GA 30309
1-470-299-7772
Online Offers: All Day Every Day
Office Hours: Mon - Fri 9am - 6pm.
hello @ junkcarmedics.com
We buy cars in the following zip codes in Atlanta: 30301, 30302, 30303, 30304, 30305, 30306, 30307, 30308, 30309, 30310, 30311, 30312, 30313, 30314, 30315, 30316, 30317, 30319, 30320, 30321
We also purchase cars for cash in areas such as Druid Hills, Gresham Park, North Decatur, Decatur, East Point, North Druid Hills, Belvedere Park, Panthersville, College Park, North Atlanta, Forest Park, Chamblee, Smyrna, Doraville, Sandy Springs.