Get More Cash for Cars and Junk Cars in Los Angeles, CA
Junk your car to Los Angeles's #1 cash for cars service that gets you up to $500 more.
Get a fast offer with our best price now:
We Buy Junk Cars for Cash in Los Angeles
Junk your car with Junk Car Medics cash for junk cars service in Los Angeles, CA. We will give you an instant offer on old cars, used cars, damaged cars, absolute clunkers, or even totaled cars!
Is your silver mid-90s Camry growing roots in your driveway? No problem. We offer towing services and free junk car removal!
Go online now for a no-obligation instant quote for the best price in the county. 
We work with local auto salvage yards, junk car buyers, and car auctions to get you the best price. Don't settle for a low ball offer when you could get the highest price with no hassles and pick-up service!
Choose to sell your car to the junk car buyers in Los Angeles. We are members of the Automotive Recyclers Association as well as the local State Automotive Recycling Association.
So, stop losing time and money on your old clunker. 
Instead, get an instant offer from Junk Car Medics today and spend more time exploring everything Los Angeles has to offer! Contact Junk Car Medics today.
Junk Car Medics Los Angeles
Los Angeles, CA 90034
(213) 516-6714

Calling Hours:
Call For Quote 24/7
Business Hours:
Mon-Fri: 8 am – 7 pm
Sat: 8 am – 2 pm
Sun: Closed
How to Junk a Car in Los Angeles, CA
Junk Car Medics makes selling a junk car for cash in Los Angeles, CA quick, easy, and painless. Get up to $1,500 to junk cars and up to $5,000 for used cars.
Here's how it works:
Step 1: Get an Instant Offer Online or by Phone
We'll ask you a few basic questions about your car's condition, mileage, and whether you have the title.  It's a quick process that'll take less than 2 minutes to complete, and you'll get a fair market offer to junk your car.
Step 2: Accept Your Offer and Make Arrangements
After you accept your offer a representative will contact you to make arrangements for the removal of your junk car.  Towing and removal are free of charge.
Step 3: Get Paid More For Using Junk Car Medics in Los Angeles
Upon pick up, sign over the title, hand over the keys, and you'll get paid on the spot with a check for your car.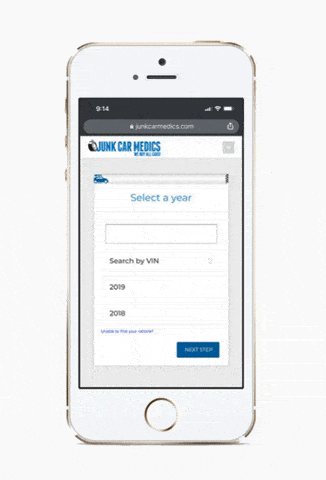 Why Junk Your Car to Junk Car Medics Cash for Junk Cars Service in Los Angeles?
Jon S. - Junk Car Medics Customer
I was trying to get rid of my 2008 GMC 1500 that needed a new transmission. Out of 8 different company's not only was there online quote fast and simple but they offered the best and highest price. When accepting the offer they made it easy with no complications. I scheduled my appointment and the driver came by the next day to remove it and pay me. If you are trying to get rid of your junk car they are the ones I recommend!
Recent Purchases by Our Junk Car Buyers in Los Angeles
2007 Lincoln MKZ

Zip: 90063
Offer Price: $890
Offer Date: 10-16-2021
2003 Infiniti FX

Zip: 90037
Offer Price: $650
Offer Date: 10-14-2021
2010 KIA Rio

Zip: 90034
Offer Price: $590
Offer Date: 10-13-2021
2003 Toyota Camry

Zip: 90029
Offer Price: $950
Offer Date: 10-11-2021
2005 Toyota Corolla

Zip: 90047
Offer Price: $935
Offer Date: 10-07-2021
2006 Volkswagen Jetta

Zip: 90007
Offer Price: $800
Offer Date: 10-07-2021
2007 Ford Fusion

Zip: 90005
Offer Price: $580
Offer Date: 10-04-2021
2004 Infiniti G35

Zip: 90066
Offer Price: $800
Offer Date: 10-02-2021
2008 Ford Focus

Zip: 90044
Offer Price: $580
Offer Date: 10-01-2021
2008 Ford Focus

Zip: 90044
Offer Price: $800
Offer Date: 10-01-2021
2000 Toyota 4Runner

Zip: 90062
Offer Price: $680
Offer Date: 09-28-2021
2004 Hyundai Santa FE

Zip: 90034
Offer Price: $590
Offer Date: 09-28-2021
2004 Hyundai Santa FE

Zip: 90034
Offer Price: $590
Offer Date: 09-28-2021
2004 Infiniti FX

Zip: 90001
Offer Price: $715
Offer Date: 09-27-2021
2005 Volvo XC90

Zip: 90018
Offer Price: $630
Offer Date: 09-25-2021