Get More Cash for Cars and Junk Cars in Jacksonville, FL
Junk your car to Jacksonville's #1 cash for cars service that gets you up to $500 more.
Get a fast offer with our best price now:
We Buy Junk Cars for Cash in
Jacksonville
You're right, selling your junk cars in Jacksonville is way harder than it has to be. With shifty auto salvage yards in Jacksonville, FL it is no wonder the process is often considered a hassle. Well, we here at Junk Car Medics are the best junk car buyers in Jacksonville. Setting a bar for excellence and service, our goal is to revolutionize the junk car buying process, removing the hassle and providing you with the very best prices found anywhere in and around Jacksonville, Florida. Feel free to contact us for more information regarding our services as well as our 100% satisfaction guarantee!
Now here is where things get interesting. If you are sitting on a junk vehicle, then you have a ticking time bomb on your hands. First, there is the famous Florida weather that will slowly eat away at your car causing you to lose out on even more profit. Second, there is the risk you run going against Jacksonville laws regarding whether or not you can have an unlicensed and uninsured junk car on your property. Don't let your junk car blight get out of control and instead hire the company responsible for helping hundreds of people just like you. We buy junk cars in Jacksonville!
Whether Jacksonville is your first stop as you head further south for vacation or you are a River City local, having a clunker means having a problem. In addition, if you have a problem when at the Gator Bowl Stadium or while attending the Jacksonville Jazz Festival, you will want an experienced team that knows the area and will pick up your car and tow it for free.
When you need medical assistance, you don't just trust any person to get the job done. Why does your car deserve any less? In addition to providing you with free towing, we will also help you navigate the DMV as well as guide you on how to best get your title and registration in order to make the process smoother.
Junk Car Medics Jacksonville
Jacksonville, FL 32207
(904) 944-6528

Calling Hours:
Call For Quote 24/7
Business Hours:
Mon-Fri: 8 am – 7 pm
Sat: 8 am – 2 pm
Sun: Closed
How to Junk a Car in
Jacksonville, FL
Junk Car Medics makes selling a junk car for cash in Jacksonville, FL quick, easy, and painless. Get up to $1,500 to junk cars and up to $5,000 for used cars.
Here's how it works:
Step 1: Get an Instant Offer Online or by Phone
We'll ask you a few basic questions about your car's condition, mileage, and whether you have the title.  It's a quick process that'll take less than 2 minutes to complete, and you'll get a fair market offer to junk your car.
Step 2: Accept Your Offer and Make Arrangements
After you accept your offer a representative will contact you to make arrangements for the removal of your junk car.  Towing and removal are free of charge.
Step 3: Get Paid More For Using Junk Car Medics in
Jacksonville
Upon pick up, sign over the title, hand over the keys, and you'll get paid on the spot with a check for your car.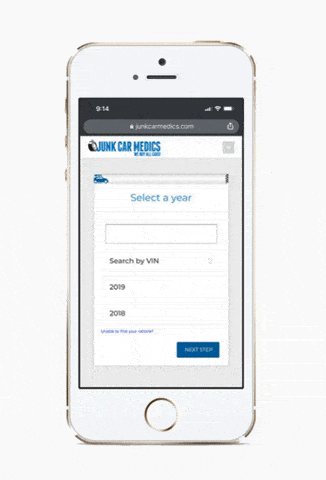 Why Junk Your Car to Junk Car Medics Cash for Junk Car Service in Jacksonville?
Jon S. - Junk Car Medics Customer
I was trying to get rid of my 2008 GMC 1500 that needed a new transmission. Out of 8 different company's not only was there online quote fast and simple but they offered the best and highest price. When accepting the offer they made it easy with no complications. I scheduled my appointment and the driver came by the next day to remove it and pay me. If you are trying to get rid of your junk car they are the ones I recommend!
Recent Purchases By Our Junk Car Buyers in
Jacksonville, FL
2009 Nissan Cube

Zip: 32208
Offer Price: $605
Offer Date: 10-15-2021
1999 Gmc Sierra

Zip: 32223
Offer Price: $995
Offer Date: 10-12-2021
2003 GMC Yukon XL

Zip: 32222
Offer Price: $500
Offer Date: 10-12-2021
2004 Ford Econoline

Zip: 32206
Offer Price: $545
Offer Date: 10-11-2021
2012 Mazda MAZDA3

Zip: 32211
Offer Price: $735
Offer Date: 10-02-2021
2003 Toyota Camry

Zip: 32209
Offer Price: $605
Offer Date: 09-27-2021
2005 Honda Civic

Zip: 32224
Offer Price: $525
Offer Date: 09-20-2021
2006 Lincoln Navigator

Zip: 32205
Offer Price: $515
Offer Date: 09-07-2021
2006 Hyundai Sonata

Zip: 32207
Offer Price: $610
Offer Date: 09-06-2021
2012 Chevrolet Impala

Zip: 32225
Offer Price: $610
Offer Date: 09-05-2021
2004 Ford Expedition

Zip: 32209
Offer Price: $600
Offer Date: 09-05-2021
1986 Chevrolet Corvette

Zip: 32216
Offer Price: $760
Offer Date: 09-05-2021
2002 Ford Explorer

Zip: 32211
Offer Price: $520
Offer Date: 08-26-2021
2007 Chevrolet Cobalt

Zip: 32210
Offer Price: $545
Offer Date: 08-21-2021
2007 Honda Accord

Zip: 32210
Offer Price: $805
Offer Date: 08-18-2021
Jacksonville, FL October 16, 2021
Jacksonville Junk Car Prices
Top 7 Used Cars in
Jacksonville, FL
Coming soon
Top 7 Junk Cars in
Jacksonville, FL
Coming soon
The #1 Junk Car Removal Service in Jacksonville
From start to finish, we will help explain auto recyclers in and around Jacksonville, FL. Making the process simple and straightforward, we are a transparent service that can get you the most for your clunker. Our car buyers are standing by to help you solve your problem and turn it into money. So what are you waiting for? Selling your car is quick and easy!
Providing unparalleled service, we buy junk cars and provide payment for cars in Jacksonville for hundreds of satisfied customers. We provide free towing, a fantastic 100% guarantee, and the best possible price for your vehicle. You get paid on the spot.
Where Can I Sell My Junk Car In Jacksonville?
Having been in the business for quite some time, we understand that you will have several options when it comes to your decision to sell your junk car in Jacksonville. In fact, we buy cars in Jacksonville specifically because of the competition. Everyday we strive to make the overall process easier and more straightforward for our customers. Setting new standards for professionalism while also providing a hassle free experience, we work to make the shady automobile buyers a thing of the past.
Do You Provide A Guarantee?
Yes we do! We provide our customers with a 100% satisfaction guarantee. Working to sell your car, we have scouted the competition as to provide and will provide you with the best deal around.
What Is The Process Like?
Junk Car Medics will work with you every step of the way to make the experience as smooth as possible. This begins by us helping you to identify and retrieve the title and registration. In addition, we provide DMV assistance to help expedite your process by providing you with the information you need to quickly get in and out. We will also tow and move your vehicle free of charge. With the value of
your car determined by weight, we will scrap your vehicle and pay you once you are completely satisfied with the process.
Call Junk Car Medics Cash for Junk Cars Service in Jacksonville, FL Now!
---
We buy cars in the following zip codes in Jacksonville: 32099, 32201, 32202, 32203, 32204, 32205, 32206, 32207, 32208, 32209, 32210, 32211, 32212, 32214, 32215, 32216, 32217, 32218, 32219, 32220
We also purchase cars in surrounding cities such as Orange Park, Atlantic Beach, Lakeside, Jacksonville Beach, Palm Valley, Fernandina Beach, Saint Augustine, Palatka, Palm Coast, Lake City, Gainesville.