We Pay More Cash for Cars in Tampa, FL
Junk your car to Tampa's #1 cash for cars service that gets you up to $500 more.
Get a fast offer with our best price now:
We Buy Junk Cars for Cash in
Tampa
Selling your junk car has never been an easy process in Tampa, no? With years worth of experience doing just that, we understand how challenging it can be to get a fair price for your clunker. Thankfully, that is why we are the best junk car buyers in Tampa and offer top dollar for your vehicle. Combined with our pre-sale support and assistance, as well as our post-sale 100% satisfaction guarantee, the Junk Car Medics experience will be like nothing you have ever before experienced. Contact us to learn more!
There is nothing worse for a clunker then being stuck in the hot and humid air of west-central Florida. Turning even the most sturdy and reliable vehicle into a rust heap, leaving your junk car for a later to-do list will seriously hurt the amount of money you can get for it, let alone the amount of space you have for vehicles around your home. Instead, junk your car and turn it into something tangible. Along with getting you the money you deserve, we buy junk cars in Tampa specifically so that we can provide a service that is above and beyond anything you would normally experience.
Junk Car Medics Tampa
Tampa, FL 33615
(855) 587-0227
Calling Hours:
Call For Quote 24/7
Business Hours:
Mon-Fri: 8 am – 7 pm
Sat: 8 am – 2 pm
Sun: Closed
Top rated junk car buyers.
How to Sell Junk Cars in
Tampa, FL
Junk Car Medics makes selling a junk car for cash in Tampa, FL quick, easy, and painless. Get up to $1,500 to junk cars and up to $5,000 for used cars.
Here's how it works:
Step 1: Get an Instant Offer Online or by Phone
We'll ask you a few basic questions about your car's condition, mileage, and whether you have the title.  It's a quick process that'll take less than 2 minutes to complete, and you'll get a fair market offer to junk your car.
Step 2: Accept Your Offer and Make Arrangements
After you accept your offer a representative will contact you to make arrangements for the removal of your junk car.  Towing and removal are free of charge.
Step 3: Get Paid More For Using Junk Car Medics in
Tampa
Upon pick up, sign over the title, hand over the keys, and you'll get paid on the spot with a check for your car.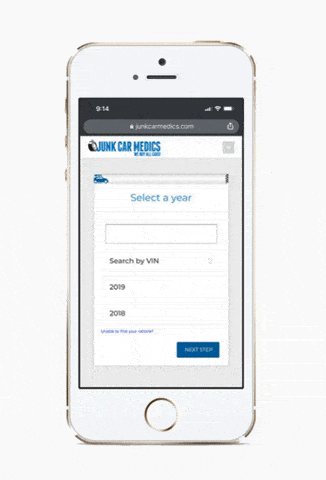 Why Junk My Car with Junk Car Medics in Tampa?
Jon S. - Junk Car Medics Customer
I was trying to get rid of my 2008 GMC 1500 that needed a new transmission. Out of 8 different company's not only was there online quote fast and simple but they offered the best and highest price. When accepting the offer they made it easy with no complications. I scheduled my appointment and the driver came by the next day to remove it and pay me. If you are trying to get rid of your junk car they are the ones I recommend!
Recent Purchases By Our Junk Car Buyers in
Tampa, FL
2002 Nissan Xterra

Zip: 33614
Offer Price: $565
Offer Date: 11-28-2021
2004 Buick Rendezvous

Zip: 33611
Offer Price: $565
Offer Date: 11-27-2021
2000 Jeep Grand Cherokee

Zip: 33613
Offer Price: $565
Offer Date: 11-25-2021
2001 Chevrolet Monte Carlo

Zip: 33605
Offer Price: $560
Offer Date: 11-19-2021
2005 Chrysler PT Cruiser

Zip: 33607
Offer Price: $560
Offer Date: 11-18-2021
2003 BMW 7-Series

Zip: 33610
Offer Price: $565
Offer Date: 11-17-2021
1998 Honda Civic

Zip: 33612
Offer Price: $560
Offer Date: 11-17-2021
1998 Honda Civic

Zip: 33612
Offer Price: $560
Offer Date: 11-17-2021
1998 Honda Civic

Zip: 33612
Offer Price: $560
Offer Date: 11-17-2021
1998 Bmw 323

Zip: 33616
Offer Price: $560
Offer Date: 11-17-2021
2003 Ford Windstar

Zip: 33613
Offer Price: $550
Offer Date: 11-15-2021
2009 Cadillac Escalade

Zip: 33602
Offer Price: $680
Offer Date: 11-11-2021
2008 Volkswagen Rabbit

Zip: 33611
Offer Price: $550
Offer Date: 11-08-2021
2007 Chrysler Pacifica

Zip: 33612
Offer Price: $550
Offer Date: 11-07-2021
2006 Chrysler Pacifica

Zip: 33610
Offer Price: $555
Offer Date: 11-06-2021
Tampa, FL November 29, 2021
Tampa Junk Car Prices
Top 7 Used Cars in
Tampa, FL
Coming soon
Top 7 Junk Cars in
Tampa, FL
Coming soon
The #1 Junk Car Removal Service in Tampa
What's the bottom line? Simply put, there isn't any. Making business by providing our customers with exactly what they want, we will provide free towing, help you through the legal process of signing over the vehicle, and make sure you are completely satisfied with the experience.
The last thing anyone wants is for you to be stuck in the tropical climate, waiting for someone to come. Whether your vehicle is stuck along 60 in the heart of Tampa or far out into the swamps along Route 4, we will have you covered. Even in the middle of a Tampa Bay Buccaneers game, we will help you with your junk cars needs.
Does Junk Car Medics Provide Any Sort of Guarantee?
We provide a 100% guarantee. We want every customer to be satisfied by our service, and we will work to make sure you leave happy. From the moment you first call to the moment we get your car removed, we will work to support a hassle free environment where you can quickly and effectively move towards getting rid of your junk car.
Where Can I Sell My Junk Car in Tampa, FL?
If you want a fair deal and a company that knows the meaning of customer satisfaction, then you really only have one option. Why go with some of the unknown auto junk yards in Tampa when you can go with a trusted name. We are the best car buyers in Tampa Florida but also provide a service and level of satisfaction that cannot be beat.
What Do I Need To Sell My Car In Tampa, FL?
Selling your wrecked cars in Tampa can be a hassle and will require you have proper documentation proving ownership. More often than not this will mean title and registration. We can help you located this information as well as navigate the DMV effectively to save time and money on your part if requested.
Call Junk Car Medics Cash for Junk Cars Service in Tampa, FL Now!
---
We buy cars in the following zip codes in Tampa: 33601, 33602, 33603, 33604, 33605, 33606, 33607, 33608, 33609, 33610, 33611, 33612, 33613, 33614, 33615, 33616, 33617, 33618, 33619, 33620
We also purchase cars in all surrounding areas including Egypt Lake-Leto, Temple Terrace, Lake Magdalene, Mango, Brandon, Citrus Park, Bloomingdale, Oldsmar, Lutz, Safety Harbor, Pinellas Park, Saint Petersburg, East Lake, Dunedin, Largo.