We Pay More Cash For Cars in Queens, NY
We pay the most cash for junk cars in Queens, NY.
Get an offer in 1-2 minutes
to sell your car now.
We Buy Junk Cars for Cash in Queens, NY
View Recent Junk Car Prices in Queens
It is pretty easy to imagine a million other things to do besides to sell your junk car in Queens, agree? When you get right down to it, selling a clunker in New York City's second most populated borough isn't easy. Thankfully, Junk Car Medics is here to remedy the situation with our incredible service, quick response, and best prices in the area. Contact our buyers right now and take advantage of our 100% satisfaction guarantee!
Junk Car medics Serves Queens, New York
Space in Queens is limited. Every square foot that is taken up by something is not being used for something else. With parking being so hard to come by, having a junk car means wasting valuable space with something that will only make your area look more run down. The secret is that your eye sour is in fact an excellent source of money that could provide you with cash on the spot.
You might be wondering, how is this possible? Here at Junk Car Medics, we tailor our business around paying you cash for your car. We do this by helping you through every part of the process including instructions on how to acquire the title and registration that is required for the process, along with ways to make your DMV visit as quick and painless as possible. The video on the right has more information so please click to learn more.
This is Crazy..
No, in fact it is straightforward. We believe the most ethnically diverse urban area in the world deserves a better then average service where all of your cash for cars needs are met. Instead of wasting your time with the myriad of shady and untrustworthy auto recyclers across the city, go with a name that is trusted in Queens New York and beyond. Whether you are stuck outside JFK or have broken down while spending a nice day at Highland Park, we here at Junk Car Medics are here to help.
Now you have the opportunity to turn your junk vehicle into a sizable amount of money. We buy cars all over and we know what people are looking for and how we can help them through the process. With our help, the process will never be simpler or more straightforward.  Don't waste your time with the other auto salvage yards in Queens that will offer you a lot but show up with a little.  The Medics are straightforward with guaranteed pricing that pays top dollar. It's quick and easy!
Changing how people see cash for junk cars one client at a time, Junk Car Medics is re-inventing the car removals for cash model in Queens, NY. By offering the best prices for cars, being paid on the spot, free removal services, and providing free consultation regarding how to get the correct paperwork in order, we are the cure for all of your clunker car ills.
Frequently Asked Questions When Selling a Junk Car
Do You Provide Free Car Removal/Towing In Queens?
Of course we do. A signature of our business, we will come to you, removing your junk car and saving you big on transportation costs to the scrap yards. After working out a time as well as the necessary paperwork, we will show up on time for the junk car removal as requested.
What Do You Do With Junk Cars?
All cars that come in are taken apart into their component parts. Our junk car buyers are standing by to start the process whenever you are ready. Remember, we buy any car!
Do You Provide A Guarantee?
We provide every client with a 100% satisfaction guarantee regarding your cash for cars service. When it comes to junk cars for cash, we buy cars in Queens, NY at the best possible prices.
Call us now: (855) 587-0227.
JunkCarMedics.com
Queens, NY 11373
(855) 587-0227
Calling Hours:
Call For Quote 24/7
Business Hours:
Mon-Fri: 8 am – 7 pm
Sat: 8 am – 2 pm
Sun: Closed
Top rated junk car buyers.
Read all reviews
Recent Junk Car Offers in Queens, NY
| | | | |
| --- | --- | --- | --- |
| Vehicle | ZipCode | Offer Date | Offer Price |
| 2003 Dodge Neon | 11365 | 08-05-2022 | $620 |
| 2003 Hyundai Santa Fe | 11365 | 02-04-2022 | $640 |
| 2008 Ford Expedition | 11365 | 01-17-2022 | $765 |
| 2008 Buick Enclave | 11365 | 01-10-2022 | $640 |
| 2010 Nissan Rogue | 11365 | 09-17-2021 | $765 |
Reasons People Junk Cars for Cash in Queens, NY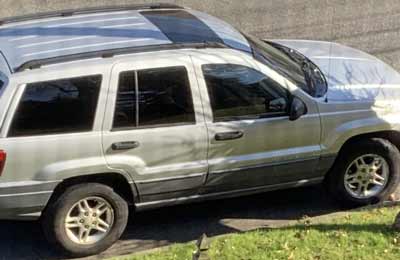 We asked Maria Koulouriotis from Flushing, NY about her 2002 Jeep Grand Cherokee:
I'm junking my 2002 Jeep Grand Cherokee because it does not start and I bought another car.
Our Price For The 2002 Jeep Grand Cherokee: $375.00

We asked Zahdi Khan from Rego Park, NY about his 1996 Chevrolet Lumina 4DR Sedan:
I decided to junk my 1996 Chevrolet Lumina because the engine is locked and car won't start.
Our Price For The 1996 Chevrolet Lumina: $355.00
We Service Queens & Surrounding
We serve all of Queens, as well as the surrounding boroughs and western Long Island. This includes Richmond Hill, Floral Park, Howard Beach, Queens Village, Kew Gardens, Ozone Park and all the zip codes of 11427, 11428, 11429, 11411, 11413, 11434, 11412, 11423, 11366, 11365, 11432, 11433, 11434, 11435, 11436, 11420, 11419, 11418, and 11415. If your zip code is not mentioned here, then please do not hesitate to contact us and we can see how we can best serve your needs.