Get More Cash for Cars and Junk Cars in Charlotte, NC
Junk your car to Charlotte's #1 cash for cars service that gets you up to $500 more.
Get a fast offer with our best price now:
We Buy Junk Cars for Cash in Charlotte
If you're hanging on to a junk car because you don't know how to get rid of it, we're the perfect solution. We buy junk cars in Charlotte but maybe you didn't know that. You can sell junk cars instead of paying for repair after repair to keep them running. If you're tired of putting your auto mechanic's kids through college, why not sell it to the Junk Car Medics and use the proceeds to buy a brand new car? If your old clunker is the same age as the mid-century modern house where you live in Barclay Downs, isn't it time to cut the cord? Contact us for a free car quote and find out how much the old junker is worth!  You will receive payment on the spot! And if you wish you can also donate your car.
It gets better: Not only will we pay top dollar for your vehicle, we offer free removal in Charlotte, no matter where you live. Our offers are the same in every neighborhood of the city. Whether you're close to Interstate 277 or over by University City, or all the way in Gastonia, NC looking to sell your salvage car we'll send a tow truck to pick up your car at no cost to you. We'll put the money right in your hand at the same time we pick up the car. All you need to do is supply the title to the vehicle, and our junk car buyers in Charlotte will do the rest. Watch our video for more information, or call us right now to see how quick and easy it is to turn rust into gold!
Junk Car Medics Charlotte
Charlotte, NC 28209
(704) 703-2185

Calling Hours:
Call For Quote 24/7
Business Hours:
Mon-Fri: 8 am – 7 pm
Sat: 8 am – 2 pm
Sun: Closed
How to Junk a Car in Charlotte, NC
Junk Car Medics makes selling a junk car for cash in Charlotte, NC quick, easy, and painless. Get up to $1,500 to junk cars and up to $5,000 for used cars.
Here's how it works:
Step 1: Get an Instant Offer Online or by Phone
We'll ask you a few basic questions about your car's condition, mileage, and whether you have the title.  It's a quick process that'll take less than 2 minutes to complete, and you'll get a fair market offer to junk your car.
Step 2: Accept Your Offer and Make Arrangements
After you accept your offer a representative will contact you to make arrangements for the removal of your junk car.  Towing and removal are free of charge.
Step 3: Get Paid More For Using Junk Car Medics in Charlotte
Upon pick up, sign over the title, hand over the keys, and you'll get paid on the spot with a check for your car.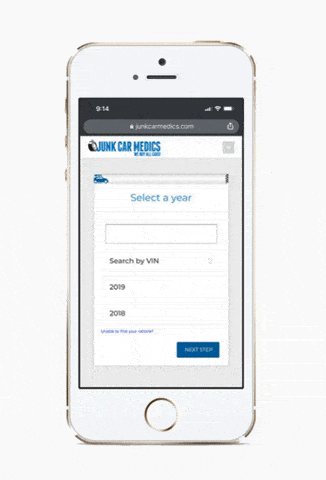 Why Junk Your Car to Junk Car Medics Cash for Junk Car Service in Charlotte?
Jon S. - Junk Car Medics Customer
I was trying to get rid of my 2008 GMC 1500 that needed a new transmission. Out of 8 different company's not only was there online quote fast and simple but they offered the best and highest price. When accepting the offer they made it easy with no complications. I scheduled my appointment and the driver came by the next day to remove it and pay me. If you are trying to get rid of your junk car they are the ones I recommend!
Recent Purchases By Our Junk Car Buyers in Charlotte, NC
2009 Nissan Altima

Zip: 28216
Offer Price: $655
Offer Date: 10-16-2021
2007 Honda Accord

Zip: 28216
Offer Price: $880
Offer Date: 10-15-2021
2006 Gmc Sierra

Zip: 28212
Offer Price: $785
Offer Date: 10-10-2021
2006 Honda Accord

Zip: 28216
Offer Price: $855
Offer Date: 10-10-2021
2004 BMW 5-Series

Zip: 28214
Offer Price: $520
Offer Date: 10-06-2021
2005 Bmw 330

Zip: 28205
Offer Price: $550
Offer Date: 10-04-2021
2001 Ford Econoline

Zip: 28210
Offer Price: $760
Offer Date: 09-30-2021
2004 Acura TSX

Zip: 28205
Offer Price: $890
Offer Date: 09-22-2021
2012 Nissan Altima

Zip: 28269
Offer Price: $630
Offer Date: 09-22-2021
2004 Acura TSX

Zip: 28205
Offer Price: $870
Offer Date: 09-20-2021
2007 Volkswagen New Beetle

Zip: 28214
Offer Price: $585
Offer Date: 09-12-2021
2002 Toyota Camry

Zip: 28206
Offer Price: $795
Offer Date: 09-11-2021
2006 Infiniti G35

Zip: 28212
Offer Price: $685
Offer Date: 09-11-2021
2012 Nissan Sentra

Zip: 28209
Offer Price: $850
Offer Date: 09-07-2021
2005 Honda Accord

Zip: 28269
Offer Price: $595
Offer Date: 09-05-2021
Charlotte, NC October 17, 2021
Charlotte Junk Car Prices
Top 7 Used Cars in Charlotte, NC
Coming soon
Top 7 Junk Cars in Charlotte, NC
Coming soon
The #1 Junk Car Removal Service in Charlotte
Is your old clunker making you sick? Let Junk Car Medics make you feel better. No one offers more money for junk cars in Charlotte than we do. The process couldn't be simpler, and you'll love the Junk Car Medics honest pricing and great service. We offer free junk car removal and we pay more than any other auto junk yards in Charlotte, North Carolina. Call us today and find out how much more!
We Buy Junk Cars in Charlotte No Matter What Shape They're In
You have nothing to lose by contacting us except the rusty old car in your driveway. Don't waste your time talking to shady scrap yard operators and high-pressure used car salesmen. Contact the best junk car buyer in Charlotte, JunkCarMedics.com, the 911 of auto salvage. We'll give you a generous offer based on the fair market value of your old car, and we'll make sure that the number you're quoted is the same on the check as it is on the phone. Towing is always free, so every dime will go in your pocket. We'll even help with the paperwork at the DMV. Contact us today!
What about junk cars with no title in Charlotte, NC
Our junk car buyers are standing by to serve you, but we can't actually purchase the car until you find the title or use other means to prove you own the car. If you're having trouble finding the title, call us and we'll offer assistance. Once you have a duplicate title in hand, we'll handle all the rest of the paperwork. The only paper you'll get will have pictures of presidents on it – the best kind!
What if My Car Doesn't Need Towing?
No problem. We offer free junk car removal in Charlotte, but if you'd rather just drop off your unwanted vehicle at one of our scrap yards and get paid on the spot, we can arrange that, too. No matter what, you never have to spend a penny on an estimate or towing.
Why Do You Buy Junk Cars In Charlotte?
OK, this might sound crazy, but we love the junk car business. Junk yards have gotten a bad reputation over the years, and we're trying to change that. We take pride in honest dealing, and love recycling old cars into something useful while we put smiles on our customer's face with generous payouts. Everyone wins!
Do You Offer a Guarantee?
You better believe we do. We're serious about our reputation as the best junk cars buyers in Charlotte, and we offer a 100% satisfaction guarantee. We're not happy until you're happy. It's better than selling your car on Craigslist. Choose the Medics and use the money to go see a Hornets game!
Call Junk Car Medics Cash for Junk Cars Service in Charlotte, NC Now!
---
We buy cars in the following zip codes in Charlotte: 28201, 28202, 28203, 28204, 28205, 28206, 28207, 28208, 28209, 28210, 28211, 28212, 28213, 28214, 28215, 28216, 28217, 28218, 28219, 28220.
We also buy cars in Huntersville NC, Indian Trail NC, Mint Hill NC, Matthews NC, Monroe NC, Gastonia NC, Concord, NC and Rock Hill SC. Everywhere surrounding and near Charlotte within 100 miles.