Get More Cash for Cars and Junk Cars in Houston, TX
Junk your car to Houston's #1 cash for cars service that gets you up to $500 more.
Get a fast offer with our best price now:
We Buy Junk Cars for Cash in Houston
You might be wondering: Who would pay top dollar for my junk car? We buy junk cars in Houston and we pay the best along with providing fast and dependable service. Other car buyers might have other motives behind buying your car, and scrap yards rarely give the average person a fair deal. We're here to change all that.
We'll come pick up your vehicle for free, and give you a large check at the same time. Selling a junk car is very different from selling a functioning car. A junk car can sit in your driveway for years before someone's interested in it. Lucky for you, we're interested in any kind of clunker in any condition. We'll come remove your car in Houston whether you're in Harris, Fort Bend, or Montgomery. We'll even travel to the city limits to pick up your car. It's quick and easy!
With Junk Car Medics, you don't have to worry about pawing through a sea of paperwork to get your money. If you have the car's title and proof of registration, we'll take it off your hands. You might need to fill out a damage disclosure statement, but our experts will help you with that. Even if you have a car with no title we most likely will still be able to help so don't shy away. In most cases, all you have to do after we take the car is return the license plates to your local DMV. If you're ready to talk or you have questions about your vehicle, our junk car buyers in Houston are standing by right now to give you a top dollar quote.
Junk Car Medics Houston
Houston, TX 77004
(713) 588-9653

Calling Hours:
Call For Quote 24/7
Business Hours:
Mon-Fri: 8 am – 7 pm
Sat: 8 am – 2 pm
Sun: Closed
How to Junk a Car in
Houston, TX
Junk Car Medics makes selling a junk car for cash in Houston, TX quick, easy, and painless. Get up to $1,500 to junk cars and up to $5,000 for used cars.
Here's how it works:
Step 1: Get an Instant Offer Online or by Phone
We'll ask you a few basic questions about your car's condition, mileage, and whether you have the title.  It's a quick process that'll take less than 2 minutes to complete, and you'll get a fair market offer to junk your car.
Step 2: Accept Your Offer and Make Arrangements
After you accept your offer a representative will contact you to make arrangements for the removal of your junk car.  Towing and removal are free of charge.
Step 3: Get Paid More For Using Junk Car Medics in
Houston
Upon pick up, sign over the title, hand over the keys, and you'll get paid on the spot with a check for your car.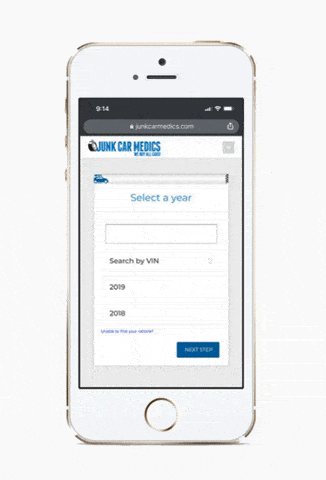 Why Junk Your Car to Junk Car Medics Cash for Junk Car Service in Houston?
Jon S. - Junk Car Medics Customer
I was trying to get rid of my 2008 GMC 1500 that needed a new transmission. Out of 8 different company's not only was there online quote fast and simple but they offered the best and highest price. When accepting the offer they made it easy with no complications. I scheduled my appointment and the driver came by the next day to remove it and pay me. If you are trying to get rid of your junk car they are the ones I recommend!
Recent Purchases By Our Junk Car Buyers in
Houston, TX
1998 Dodge Grand Caravan

Zip: 77506
Offer Price: $620
Offer Date: 10-16-2021
2007 Jeep Grand Cherokee

Zip: 77511
Offer Price: $610
Offer Date: 10-16-2021
2010 Mazda CX-7

Zip: 77040
Offer Price: $790
Offer Date: 10-15-2021
2007 Lincoln MKZ

Zip: 77033
Offer Price: $755
Offer Date: 10-14-2021
2006 Cadillac CTS

Zip: 77478
Offer Price: $590
Offer Date: 10-14-2021
1998 Dodge Grand Caravan

Zip: 77506
Offer Price: $550
Offer Date: 10-13-2021
1998 Ford Explorer

Zip: 77039
Offer Price: $630
Offer Date: 10-12-2021
2006 Acura TL

Zip: 77521
Offer Price: $800
Offer Date: 10-11-2021
2003 Lincoln Navigator

Zip: 77015
Offer Price: $605
Offer Date: 10-10-2021
2008 Mazda MAZDA6

Zip: 77373
Offer Price: $740
Offer Date: 10-09-2021
2010 Buick Enclave

Zip: 77073
Offer Price: $720
Offer Date: 10-09-2021
2000 Ford Focus

Zip: 77034
Offer Price: $565
Offer Date: 10-08-2021
2009 Dodge Caliber

Zip: 77304
Offer Price: $620
Offer Date: 10-07-2021
2002 Acura MDX

Zip: 77017
Offer Price: $550
Offer Date: 10-07-2021
2006 Ford Explorer

Zip: 77015
Offer Price: $630
Offer Date: 10-07-2021
Houston, TX October 16, 2021
Houston Junk Car Prices
Top 7 Used Cars in
Houston, TX
Coming soon
Top 7 Junk Cars in
Houston, TX
Coming soon
The #1 Junk Car Removal Service in Houston
Are you tired of driving your car and looking to junk it in Houston, TX? Do you own junk cars that haven't been driven in years? Junk Car Medics in Houston, TX buys all cars for great prices! We buy cars for more than any other scrap yards offer. Towing is always free. Assistance with donating your clunker to a local charity is on us as well. Contact us today for a quote! Don't even bother with the other auto junkyards in Houston. The Medics is all you need!
We're proud to serve Houston, TX and all of its districts. We'll come pick up your junk car from any place in the area, and at the best time for you. We'll travel to the center of Downtown or all the way out to Upper Kirby if you need our services.
Don't hesitate — contact Junk Car Medics Cash for Junk Cars Service in Houston, TX now to get a free quote on your car. You could be sitting on a lot of money right now without even knowing it. Don't sell your junk car or truck in Houston without contacting us first!
---
We buy cars in Fort Bend County, La Marque, and all zip codes in Houston such as: 77001, 77002, 77003, 77004, 77005, 77006, 77007, 77008, 77009, 77010, 77011, 77012, 77013, 77014, 77015, 77016, 77017, 77018, 77019, 77020.