We Pay More Cash for Cars in San Antonio, TX
Junk your car to San Antonio's #1 cash for cars service that gets you up to $500 more.
Get a fast offer with our best price now:
We Buy Junk Cars for Cash in San Antonio
Here's the deal, you have an automobile that is causing you all kinds of woes in San Antonio. Here's the solution: we buy junk cars in San Antonio from you. That's right, we will pay you to heal your junk car woes. We'll pay you more than any other auto salvage yard in San Antonio, TX will. Not only will we pay you for your junk car in San Antonio, we will pay you top dollar prices. Who can offer you a better deal than that?
If you have a clunker that you want to get rid of, give the best junk car buyers in San Antonio a call or visit us on the internet. During the call, you provide information about your clunker, and we give you a quote. If you like the quote, we'll schedule a time for us to come out and collect your car. You sign a few papers, and we give you money for your car.
JunkCarMedics.com wants to give you the best value for your automobile. The cars we buy are scrapped for the metal. That is why the amount that you'll be paid is usually based upon the weight of the vehicle.
Junk Car Medics San Antonio
San Antonio, TX 78217
(855) 587-0227
Calling Hours:
Call For Quote 24/7
Business Hours:
Mon-Fri: 8 am – 7 pm
Sat: 8 am – 2 pm
Sun: Closed
Top rated junk car buyers.
How to Sell Junk Cars in San Antonio, TX
Sell junk cars in San Antonio, TX with our quick, easy, painless process. Get up to $300, $500, even $1,500 cash for junk cars, old cars, damaged cars, and used cars.
Here's how it works:
Step 1: Get an Instant Offer Online or by Phone
We'll ask you a few basic questions about your car's condition, mileage, and whether you have the title.  It's a quick process that'll take less than 2 minutes to complete, and you'll get a fair market offer to junk your car.
Step 2: Accept Your Offer and Make Arrangements
After you accept your offer a representative will contact you to make arrangements for the removal of your junk car.  Towing and removal are free of charge.
Step 3: Get Paid More For Using Junk Car Medics in San Antonio
Upon pick up, sign over the title, hand over the keys, and you'll get paid on the spot with a check for your car.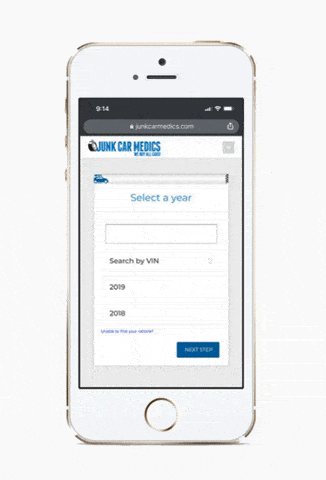 Why Junk My Car with Junk Car Medics in San Antonio?
Jon S. - Junk Car Medics Customer
I was trying to get rid of my 2008 GMC 1500 that needed a new transmission. Out of 8 different company's not only was there online quote fast and simple but they offered the best and highest price. When accepting the offer they made it easy with no complications. I scheduled my appointment and the driver came by the next day to remove it and pay me. If you are trying to get rid of your junk car they are the ones I recommend!
San Antonio Junk Car Prices
Over the last 12 months junk car prices in San Antonio, TX increased 29% on average for vehicle year models 1998-2008, the most commonly junked years! Let's take a look at some of the numbers:
Most Common Junk Cars in San Antonio
2008 Nissan Altima - $491.00
2002 Toyota Camry - $755.00
2004 Honda Civic - $483.00
2003 Chevrolet Tahoe - $584.00
2010 Scion TC - $642.50
2009 Dodge Journey - $565.00
2007 Ford F-150 - $1,713.75
2009 Cadillac CTS - $622.50
2003 Honda Accord - $401.25
2004 Chevrolet Impala - $305.00
Junk Car Prices in San Antonio by Year
2002 - $444.81
2003 - $420.19
2004 - $491.94
2005 - $491.67
2006 - $560.49
2007 - $841.47
2008 - $846.11
2009 - $677.69
2010 - $1,034.82
2013 - $2,053.89
10 Cars Worth Over $500 in Alamo City
1993 Mercedes-Benz 190 - $1,550.00
2000 Toyota Tundra - $1,095.00
2001 Ford F-250 SD - $1,695.00
2002 Chevrolet Silverado 1500 - $1,025.00
2003 Dodge Ram 1500 - $1,510.00
2003 Ford Ranger - $1,005.00
2004 Ford F-350 SD - $1,980.00
2004 Ford Thunderbird - $1,210.00
2004 GMC Sierra 1500 - $1,280.00
2004 Infiniti FX - $1,220.00
The #1 Junk Car Removal Service in San Antonio
If you are thinking "it's time to sell my car in San Antonio" then we want to buy it. If you want to schedule an appointment or you want more information, give us a call or visit our website.
Having the title handy protects you from liability. Junk Car Medics cares about you, our customer. We're not out to rip you off like some of the other auto recyclers in the San Antonio area. We don't want to swindle you, we want to engage you in a business deal. We want to buy your junk car.
Along with the title, you might want to have the registration handy. If you have a car with no title, you can get a replacement for a small fee at your local DMV office. You'll also want to remove the license plates from the car and take them to your local DMV office. Taking these steps protects you, the customer.
What Are You Waiting For?
Don't let that junk car sit around another day. Sell your junk car to us now! Our tow trucks are waiting for your call. Contact us, a trained car salvage associate is ready for your call.
Do I Bring My Junk Car to You? What If It Doesn't Run?
No, we come to you. At the time of your appointment, we will send a driver out to your residence. If it doesn't run, that's OK. Towing is free and we are still paying you on the spot.
How Fast Can I Get Paid After You Pick Up My Junk Car?
You don't get paid after we collect the car you want to sell to us; you get paid before we leave with your junk car. Yes, you read that right, our driver will have you sign over the car, and then we put a check in your hands immediately. There is no waiting. The whole process is quick, easy, and profitable.
Do You Guarantee Your Service?
Yes, Junk Car Medics offers a 100% Satisfaction Guarantee to you in San Antonio. If you're not happy with our service, then we will take care of the situation so that the process runs smoothly and effectively for everyone involved.
Call Junk Car Medics Cash for Junk Cars Service in San Antonio, TX Now!
---
We buy cars in Fort Worth, Corpus Christi, and all the following zip codes in and near San Antonio: 78201, 78202, 78203, 78204, 78205, 78206, 78207, 78208, 78209, 78210, 78211, 78212, 78213, 78214, 78215, 78216, 78217, 78218, 78219, 78220.
Recent Purchases By Our Junk Car Buyers in San Antonio, TX
2005 Mini Cooper

78229
$530
06-23-2022
2007 BMW 3-Series

78216
$635
06-23-2022
2006 Honda CR-V

78245
$915
06-20-2022
2006 Nissan Xterra

78247
$960
06-19-2022
2014 Chevrolet Cruze

78245
$835
06-19-2022
2003 Ford Expedition

78238
$720
06-16-2022
2003 Nissan Murano

78217
$635
06-13-2022
2005 Mitsubishi Outlander

78219
$635
06-12-2022
2004 Mitsubishi Lancer

78202
$500
06-10-2022
2012 KIA Optima

78232
$800
06-07-2022
2008 Mitsubishi Galant

78218
$585
06-07-2022
2008 Mitsubishi Galant

78218
$585
06-07-2022
2010 Chrysler 300

78250
$635
06-03-2022
2006 Hyundai Sonata

78238
$555
06-02-2022
1993 Chevrolet S-10

78201
$585
06-02-2022