Get Cash For Cars in Richmond, VA
We pay the most cash for junk cars in Richmond, VA.
Get an offer in 1-2 minutes
to sell your car now.
Sell Junk Cars for Cash in Richmond With Junk Car Medics
View Recent Junk Car Prices in Richmond
Time to get rid of that clunker taking up space? You could try selling it yourself. But that will take lots of time you just don't have. Not to mention finding a buyer could never happen. And dealing with those shady junk yards and salvage yards can be even more stressful. They want to make a quick buck, even if it means pulling a scam. But it's time to get that junker out of the way and free up that precious space! Now, you can get cash for junk cars in Richmond, Virginia.
That's where Junk Car Medics come in. When we make an offer, we stick to it! We give you more money than any other auto recycler. Our goal is to satisfy each and every customer.
We Buy Junk Cars All Over Richmond, Virginia
JunkCarMedics.com buys cars of any make, model, or type. It doesn't matter what condition your clunker is in--we want it. Broken, damaged, totaled? We want your wrecked vehicle. Even if your car doesn't have a title, we can work with you! No matter where you live in Richmond near me, we'll come get your junker. We even offer free towing and removal. Don't bother with those sketchy junk yards or places that need a title. We offer cash for junk cars in Richmond, Virginia.
Whether you want to go down to the Museum of Fine Arts or just want to take a trip to the Lewis Ginter Observatory, getting rid of your junk car gives you the extra cash to do what you want. No more slowing down!
SOME FREQUENTLY ASKED QUESTIONS
What paperwork do I need?
All you need is the title of the car and the registration.
Do You Buy Cars Without Titles?
In most cases, we can buy cars with no titles. But just in case, you should always give us a call first.
What do I do with the plates?
You can take your plates back to the DMV. If needed, you can learn more here at the local DMV.
Call us now: (855) 587-0227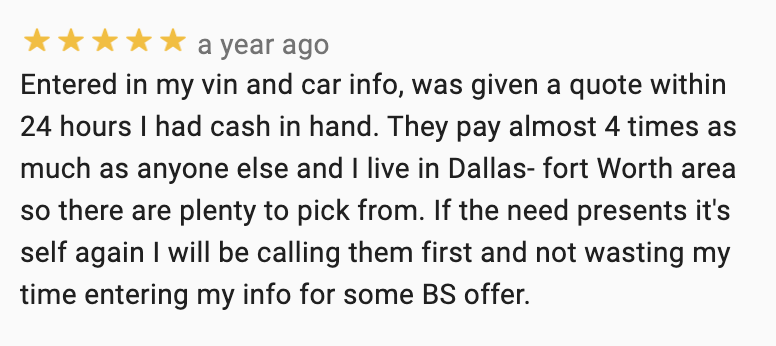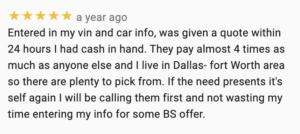 Junk Car Medics
Richmond, VA 23218
(855) 587-0227
Calling Hours:
Call For Quote 24/7
Business Hours:
Mon-Fri: 8 am – 7 pm
Sat: 8 am – 2 pm
Sun: Closed
Top rated junk car buyers.
Read all reviews
Recent Junk Car Offers in Richmond, VA
| | | | | | | |
| --- | --- | --- | --- | --- | --- | --- |
| Vehicle | ZipCode | Offer Date | Offer Price | Title | Mileage | Driveable? |
We Service Richmond & Surrounding
We Buy Cars in all zip codes in Richmond including these popular ones: 23218, 23219, 23220, 23221, 23222, 23223, 23224, 23225, 23226, 23227, 23230, 23232, 23234, 23235, 23236, 23237, 23240, 23241, 23249, 23250, 23260, 23261, 23269, 23274, 23276, 23278, 23279, 23282, 23284, 23285, 23286, 23289, 23290, 23291, 23292, 23293, 23295, 23297, 23298.
We also purchase cars for cash within up to 100 miles including in cities such as: Bensley, Wilkinson Terrace, Clopton, South Richmond, Bon Air, Tuckahoe, Dumbarton, Lakeside, Scott's Addition, Northside, Montrose, Granite, Downtown, Carytown, Fan District, West Hampton, Stonewall Court, Lockgreen, Wilton, Malvern Gardens, Acca, Stony Point, Gravel Hill, Chippenham Village, Westlake Hills, Westover Heights, Jahnke, Hioaks, Beaufont, Elkhardt, Brookhaven Farms, Belmont Woods, Walmsley, Cofer, Maury, Reedy Creek, Manchester, Forest Hill, Ancarrow's Landing, Fulton Hill, Shockoe Bottom, Church Hill North, East End, Mosby Court, Jackson Ward, Whitcomb, Green Park, Virginia Union, Bellevue, John Marshall, Pine Camp, Bryan Park & all surrounding areas.