Junk car removal is simply having your old car towed or removed on a flat bed when you sell your car.
Almost all junk car buyers will claim to offer free junk car removal.  But not all of them really follow through with it or define it a different way.
So how do you know if you are being charged to have your vehicle towed away? Or if that flat-bed that your car (that's missing a tire or two) has to go on actually costs you money?
Are there free services out there that will pick a car from your small town (population: 100)? And of those that advertise they're free, can you really trust the company to keep its word when it comes down to it?
Junk Car Medics understands just how frustrating selling a junk car can be. Just a simple search online can reveal dozens of company names that claim to provide free junk car removal, some of which may not even be located anywhere near you.
The reason you see so many options appear is that many companies are trying to get their name out to everyone in the nation, even if they can't fulfill all their promises. And that's unfortunate.
At Junk Car Medics the offer you receive is what you are paid.  We don't charge in addition for junk car removal.  We also provide a fast and free process.  Get an instant offer in 1-2 minutes and have your car removed and get paid in 1-2 days.
Want to learn more to be properly educated? Here's some things you can do to protect yourself and make sure you won't be charged extra for the removal of your junk car if you decide to go with a different service than ours.

ASK IF JUNK CAR REMOVAL IS FREE
Your best bet to make sure you get free junk car removal is to get multiple offers and confirm that they include the removal as well.
Unless you ask, you won't really know.  And the last thing you want to happen is to have a tow truck driver or a service arrive to remove your junk car and then tell you it's going to cost you $40. Then that ~$200 offer is starting to look more like $160.  That's not cool.
CONFIRM THE OFFER AMOUNT IS WHAT YOU WILL BE PAID
Before you go through with everything and set up the removal of your car, make sure that whatever amount you agreed to is what you will walk away with.  If you agreed to sell your junk car for $500, ask if there are any fees (for towing or otherwise) that will be deducted from that amount. Like above, unless you ask, you can't be sure in this industry.
GET FAST & FREE JUNK CAR REMOVAL WHEN YOU USE JUNK CAR MEDICS
For a hassle-free experience, Junk Car Medics includes the removal in the offer.
Sometimes it's free, other times we actually have to pay someone a little bit extra to remove your junk car.  But this all happens behind the scenes. When you get an offer to sell your car online to Junk Car Medics, you will receive that amount when we come to pick up the vehicle as long as the condition of the vehicle matches what you stated and it's the same car.  We will never ask for payments from you or anything like that. Simply put, you get honest-to-God junk car prices with us.  So a $200 offer is just that: $200.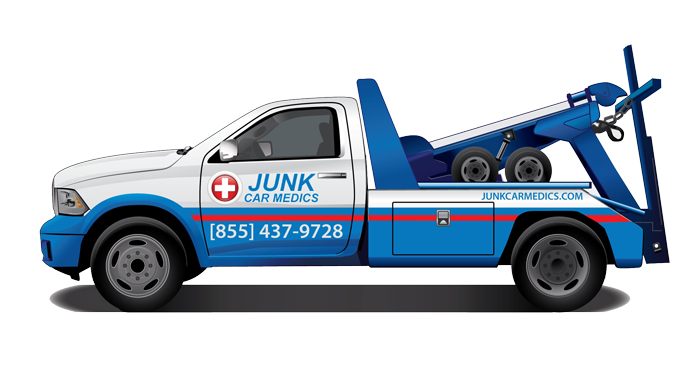 WHY JUNK CAR MEDICS DOES JUNK CAR REMOVAL THE BEST
We've found a way to make junk car removal better, so our customers can make a little extra green off their clunker. Junk Car Medics has orchestrated an efficient way to remove cars in nearly every corner of the nation without making it our customer's problem. And we do it all while being as upfront as possible.
It's all about working the relationships we have with as many professionals around the nation as possible. We find automotive experts who are willing to make a deal with us, and then we work to make it beneficial to everyone, including our customers. The more influence we have the better leverage we have to negotiate prices. We've built a reputation that has allowed us to branch out and explore opportunities that other removal services simply can't do.
When you're not exactly getting rid of junk cars on a regular basis, it's easy to fall for the slick words of a junk car removal company. These guys are telling you that it's as easy as a phone call, but their advertisements are hiding a few facts that will end up costing you more than time and energy when all is said and done.
HOW TO GET STARTED
Once you've given us the facts, we'll get you an instant offer. This price is entirely free from strings, meaning you won't have to worry about us holding your feet to the fire in case you don't decide to go with Junk Car Medics.
If you like the price, then we're glad we were able to make your day. If you don't though, you have every right to take your vehicle somewhere else. (Again though, maybe just avoid the places that charge the extra fees for towing.)
If you do decide you want us to remove your junk car, then all we need is to confirm the details of your car and get your proof of ownership. The exact proof of ownership requirements will vary from state to state, but in general, you'll need the title at the very least. We may be able to work with you if you don't have the title, but not in every state.
To make the whole process extra smooth, we'd love for you to show us the registration, driver's license, and title all in one go. The title will need to be clean, in your name, and without any liens on it. Oh, and if you can't find the keys, no worries. We're happy to tow the car without 'em. Plenty of junk cars stopped working during the Carter administration with car keys buried under couch cushions that were hauled to the dump decades ago.
HOW LONG DOES IT TAKE?
We're pretty fast, all things considered. The majority of our transactions take place within 1-2 days.
This is a total lifesaver for people who are so stressed out by a hunk of junk that has lived on  their lawn, in their garage, or parked in the driveway. If your car has been taking up far too much real estate in their brain already, you really need to get a move on. Our lightning-fast process is made to give you a little more peace of mind, so you can free up space for something that will actually work when you need it to.
JUNK CAR REMOVAL COMES WITH CASH
As soon as you hand over the title and we verify the condition of the car, we hand over a check to you. So even though your car may have left a bitter taste in your mouth, maybe the removal process will leave you feeling like you had a piece of chocolate after taking a really bitter pill.
---
FREQUENTLY ASKED QUESTIONS ABOUT OUR TOWING AND JUNK CAR REMOVAL SERVICE
 WILL YOU REMOVE MY JUNK CAR WITHOUT A TITLE?
It depends on where you are located. We cannot and do not buy cars without titles in states that don't allow it or that have a very strict process. We must obey the law. But in states that allow it as long as a certain process is followed, then yes we do.
HOW LONG DOES IT TAKE TO REMOVE MY CAR AND GET PAID?
Generally speaking, once you agree to sell us your old car we will remove it with a flat-bed or tow truck within 2-48 hours.  Some cases may take a bit longer, however we strive to keep it within this time frame.
CAN YOU REMOVE MY JUNK CAR FROM THE MECHANIC?
Yes. As long as the proper paperwork is there and the title is signed, we can pick up junk cars for removal from anywhere. The paperwork and title need to be with the vehicle though.
10 Steps to Using a Junk Car Removal Service
Prepare Your Ownership Documents - Before starting the junk car removal process, collect all relevant ownership documents like the title and registration to prove your ownership. This ensures the removal service can legally take possession of the car.
Evaluate Your Junk Car's Condition - Evaluate your car's condition, including the extent of damage and working parts, to estimate its overall value before contacting a removal service. This information will aid in negotiating a fair price.
Identify a Reliable Junk Car Removal Service - Choosing a trustworthy junk car removal service is essential. Look for positive online reviews, legitimate licensing, and good community standing. Be cautious of scams, such as unrealistically high offers or upfront payment demands.
Negotiate an Offer and Consent to Junk Your Car - Upon identifying a reputable service, get an offer based on your car's make, model, age, and condition. Feel free to negotiate the price if you think your car is worth more.
Arrange Your Junk Car Removal - After agreeing on a price, set up a suitable removal time. Most reputable services offer free towing and will work with you to make the process convenient.
Clear Your Personal Items - Ensure to remove all personal items from your car before its removal, including items stored in various compartments. Cars can accumulate valuable items over time, so thorough checking is vital.
Remove License Plates - Depending on your state's regulations, you may need to remove the license plates from your car before junking. These plates may have to be returned to the DMV or transferred to another car.
Execute Ownership Transfer - A crucial legal aspect of junk car removal is transferring ownership, typically through a title transfer. Fill out the necessary paperwork to record the transaction legally, ensuring you avoid any future legal complications.
Receive Your Payment Upon Car Removal - When the removal service picks up your vehicle, they should provide the agreed payment, usually in cash, check, or digital form. Ensure you receive payment before your car is towed.
Close the Junk Car Removal Process - After your car's removal, cancel any insurance policies on it and inform your local DMV about the sale to prevent future liabilities. These final steps are essential to conclude the process.
Though the process of junk car removal may initially appear challenging, proper preparation can make it straightforward and rewarding. Each step, from preparing documents to notifying the DMV, contributes to a smooth process. Properly retiring your old car frees up driveway space and promotes environmental conservation.
Junk cars can take up valuable space on a property or in a garage, which can be reclaimed through removal.
Junk cars can pose a risk to the environment if they are not disposed of properly, as they can leak fluids and release toxic chemicals.
Frequently Asked Questions
Junk car removal is the process of hauling away old unwanted cars for cash.
Junk car removal works by allowing customers and easy process to sell their junk cars. You get an instant offer online or by phone, accept your offer. Then the junk car removal service comes to you to pay you on the spot and tow away your vehicle.
Upon removal you will need to prove ownership of your vehicle. This means showing your license and the vehicle title and bill of sale. If you do not have the vehicle title we may still be able to purchase your car.
The length of time junk car removal takes depends on your situation and the location of the vehicle. If the vehicle is missing tires and needs a lift it will take longer. The important thing to know if upon removal you do no need to do anything. The junk car removal service will handle it.
You do not need to be present with your car upon removal. However, you will need to verify ownership in advance and leave the signed copy of the vehicle title with the car.
Upon removal, your vehicle is taken to a local recycling facility to determine the next steps. If there is still life in your car we may resell it at auction. Otherwise, we will remove the valuable parts and crush the car in an environmentally friendly way.
Yes, junk car removal is free. Our whole process is free to you.
To choose a reputable junk car hauling and removal service you need to do 3 things. First, read reviews to make sure the junk car removal company is legit. Next, make sure the company is licensed. Third, get multiple offers to make sure you are getting the right price.
All vehicles purchased by Junk Car Medics qualify for free junk car removal.
Understanding the Advantages of Environmentally Friendly Junk Car Removal
Choosing an environmentally friendly junk car removal service offers three primary benefits. These services recycle up to 98% of a car, reducing landfill waste, and ensuring all reusable parts are recycled while harmful substances are disposed of correctly. This not only reduces pollution but also conserves natural resources.
Moreover, the recycling of metals from junk cars can generate significant revenue. The Institute of Scrap Recycling Industries (ISRI) reports that the U.S. scrap recycling industry was worth $117 billion in 2021. Many services, like Junk Car Medics, offer competitive rates for your vehicle, turning your trash into cash.
Furthermore, these services create jobs and promote sustainable practices, contributing to a healthier community and social development.
Understanding the Concept of a Junk Car
A "junk car" generally refers to a vehicle that is old, significantly damaged, or no longer roadworthy. However, it's important to note that different states may have varying definitions and regulations for what qualifies as a junk car. Understanding these nuances can help you make informed decisions when it comes to retiring your vehicle.
Learn more about Junk Car Removal