Abandoned vehicles may not be claimed or have a current owner, but that doesn't mean they can't be acquired and sold. Selling a junk car that is abandoned involves a little more effort and paperwork than selling a junk car you already own. You may only sell a vehicle that belongs to you, so it is important to become the legal owner of the abandoned vehicle you'd like to sell. Let's take a look at what is necessary to sell an abandoned junk vehicle
Can I sell a junk car that is abandoned?
Yes, you can definitely sell a junk car that is abandoned. The definition of an abandoned vehicle varies depending on the state, but it usually classifies these vehicles as cars that have been left unattended on public or private property for more than 48 hours. Vehicles that have been left in an inoperable state –  without necessary parts like tires or an engine – are also regarded as abandoned vehicles.
In many states, you are eligible to acquire abandoned vehicles after waiting for an allotted period of time for the owner to claim the vehicle. From there, the authorities will either sell the unclaimed vehicle at auction or will sell the junk vehicle directly to you. Once the abandoned vehicle is legally in your possession, you will be able to sell the car to local junk buyers.
How to sell a junk car that is abandoned?
Selling a junk car that is abandoned is much like the process of selling a junk car that is already in your possession, just with an extra step or two. The main hurdle you'll have to overcome in this selling process is seeing whether you're able to acquire an abandoned vehicle in your state and how long it will take to do so.
Acquiring an abandoned vehicle means that you will have to report the vehicle as abandoned first. Once obtained by authorities, the abandoned vehicle's owner has anywhere from 10-30 days to claim the vehicle. After the waiting period, you will be able to request ownership of the vehicle, either by auction or direct sale on behalf of the city.
9 steps on how to sell a junk car that is abandoned
Here are 9 steps to selling a junk car that is abandoned.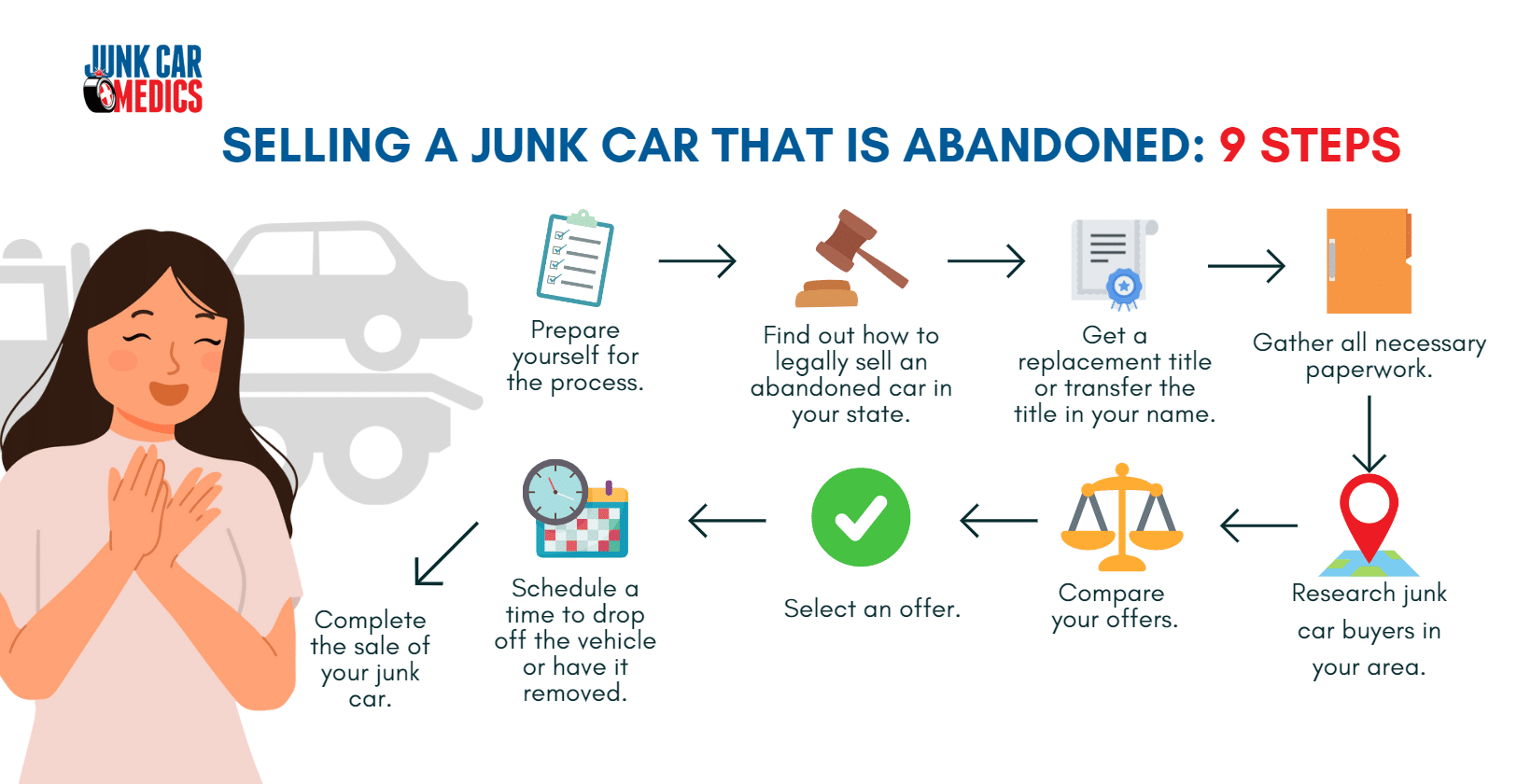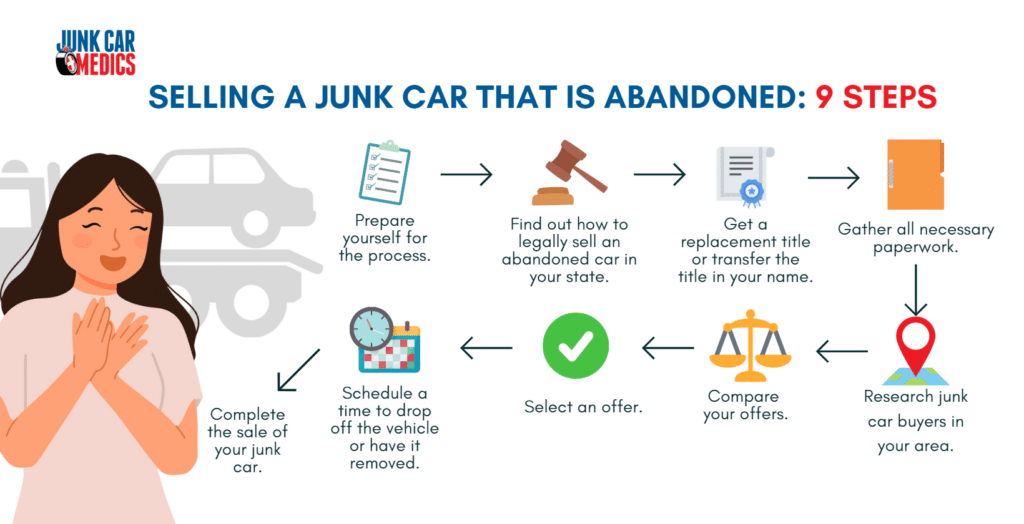 1. Prepare yourself for the process of selling a junk car that is abandoned
Before the start of the selling process, you should make sure you are organized and prepared for the task at hand. Obtaining an abandoned vehicle requires an involuntary title transfer, which means you will need a bill of sale from the government entity that sold you the abandoned vehicle.
You will also need to assess whether the purchase price of the abandoned vehicle leaves room for a profit from a resale. Abandoned junk vehicles that have been acquired to sell for parts should be appraised first. This means you should find out the approximate fair market value for your junk vehicle first before buying it from the government to resell.
Next, you should compile a large list of all the most well-reviewed, reputable junk car buyers in your area. Once you've narrowed down the most competitive offers, choose the price quote that benefits you most and arrange for the removal of your junk vehicle. From there, you'll receive cash payment for your unwanted abandoned vehicle.
2. Find out how to legally sell a junk car that is abandoned in your state
Even if a car has been sitting abandoned for an extended period of time, you are not allowed to commandeer the vehicle and simply claim it as your own. Abandoned vehicles must be reported as such to the local authorities in order for a valid, legal involuntary title transfer to take place. This gives the vehicle's original owner time to be notified of the seizure of their vehicle in case they'd like to claim it. After a period ranging anywhere from 10-30 days, a car has been completely relinquished to the authorities and is eligible to be sold to private party buyers and auctions, or may be kept for government use.
The process of purchasing an abandoned vehicle from a government entity varies, and you should check in with your state's laws regarding this. Once you have successfully purchased this abandoned vehicle, you may now sell the junk vehicle at your discretion.
3. Get a replacement title or transfer the title into your name
The title of a vehicle must be in your name in order to sell it in any state. Cars you do not legally possess are not eligible for sale. A title transfer can be performed by filling out an application and submitting it along with an application fee to your local Department of Motor Vehicles. These applications can be submitted either online or in person. Replacement or duplicate titles may also be obtained by filling out the corresponding application, submitting the application fee, and delivering it to your local DMV.
Those who have had their abandoned car in their possession for a while but do not have the original or a duplicate title on hand need to provide proof of ownership to sell the junk car. Proof of ownership is typically the vehicle title, but other documents can include the bill of sale or car registration, along with a copy of a valid driver's license.
4. Gather all necessary paperwork
Since an abandoned vehicle may not be sold by anyone other than the owner, you must furnish proof that you are the legal owner of the junk vehicle you are selling. Proof of ownership documents includes the vehicle title, car registration, or bill of sale. Junk vehicles are worth about $132 more on average when they are sold with the vehicle title, so it is in your best interest to keep a duplicate title on hand for the selling process.
5. Research junk car buyers in your area
Take some time to research the best junk car buyers in your area. The ideal junk car buyer has a long history of buying junk cars with many public reviews. Ultimately, you are looking for a reliable buyer that will not back out of the sale and who is willing to pay a fair market rate or higher for your vehicle. There are handfuls of junk car buyers in every city, but compiling a list of at least 5 buyers will leave room for multiple legitimate offers and plenty of back-ups.
6. Compare your offers
Once you've reached out to all potential buyers, consider every offer and see which one fares you better. Give the largest consideration to junk vehicle buyers who are willing to come to you and remove the vehicle. This will save you money on delivery costs and the burden of finding transportation.
7. Select an offer
After picking the best offer for your abandoned junk vehicle, reach out to the junk car buyer and confirm the sale. During this conversation, solidify transportation details. Negotiate for your vehicle to be removed if possible, but arrange for vehicle delivery only if you have to. Leave your vehicle in an easy-to-access space on the day of removal so so the pick-up process can be smooth and quick.
8. Schedule a time to drop off the vehicle or have it removed
Agree on a date and time for your junk vehicle to be picked up or removed. Those who are delivering a junk vehicle should consider the location of drop-off when arranging this time. A drop-off location on a crowded residential street, for example, should be scheduled sometime in the morning, when many residents are away at school or work.
9. Complete the sale of a junk car that is abandoned
On the day of vehicle removal or delivery, accept your cash payment for your abandoned junk vehicle. Receiving payment on the day of vehicle transfer is ideal because it lessens the likelihood of misunderstandings or fraud on either side. The junk vehicle buyer can perform a quick inspection of the vehicle before handing over payment, and the seller can ensure the buyer has a valid payment form before transferring the vehicle.
At this time, you should also report the vehicle sale to the DMV. Remove all personal belongings and license plates from the vehicle before the sale. License plates can be recycled or dropped off at your local DMV.
What is needed to sell a junk car that is abandoned?
Selling a junk car that is abandoned requires the seller to have proof of ownership documents available. An abandoned vehicle cannot be sold by any person other than the owner. An abandoned vehicle, when left in a public or private place unpermitted for an extended period of time, is subject to seizure by law enforcement. Those who are not the original owners of the abandoned vehicle must purchase the seized vehicle from a government entity. This may happen after a reasonable effort has been made to find the original owner and allow them to claim the vehicle.
Can I sell a junk car that is abandoned with no title?
Yes, you can sell a junk car that is abandoned with no title. As long as you have documents that prove you are the vehicle's legal owner, such as the bill of sale or car registration, you will be able to sell your abandoned vehicle.
Junk cars are worth more money when you are able to supply the original title or a replacement title. It is a profitable choice to have your title handy or in a safe place for any car you intend to sell.
What are the laws for selling a junk car that is abandoned?
Below are examples of 2 laws regarding selling a junk car that is abandoned.
Massachusetts General Laws, Chapter 255, Section 25 and Chapter 135, Section 8: Vehicles that have been unclaimed and abandoned may be seized by law enforcement and the title may be transferred to the facility where it is being kept. This is classified as an involuntary transfer. Involuntary transfers may be performed in cases of bankruptcy and in lieu of paying fees for a seized abandoned vehicle.
Civ. Code § 3072: Abandoned vehicles that are valued at less than $4,000 or have gathered $4,000 in self-storage fees are eligible for a lien sale. A lien sale is when a vehicle is sold by the lien holder due to unpaid debts.
Who buys junk cars that are abandoned?
There are thousands of junk car buyers across the country who are looking to purchase your abandoned junk vehicle. The buyers can be individual private party buyers or large businesses such as junkyards and recycling facilities. Non-profit organizations such as Kars 4 Kids and junk removal businesses like Junk Car Medics are willing to work with you to pick up and remove your abandoned junk vehicle.
Junk Car Medics is the best online buyer of abandoned junk vehicles. We buy thousands of junk vehicles per month and have access to a wide range of junk car buyers. This means we are always on the lookout for the absolute best price for your vehicle. By entering just a few details about your car, we can offer a fast and free price quote that other buyers simply can't compete with.
What are some tips for selling a junk car that is abandoned?
Selling an abandoned junk car may seem a little nerve-wracking, especially if you haven't done it before. With the 9 steps above, you'll be more than ready to sell your junk vehicle for a great price. Here are a few more valuable tips to keep in mind when selling your abandoned junk vehicle.
Interact with established junk car buyers
Choose a junk car buyer that will remove the vehicle for you
Have a duplicate title handy when you are ready to sell
Black out any important information (i.e. Social Security number) on documents given to the buyer
What to do after I sell a junk car that is abandoned?
After all is said and done, the first thing you should do is report the sale of your junk vehicle to the DMV. Junk vehicles are not allowed to be re-titled or registered again with the DMV, so reporting the sale protects you and the new vehicle owner. The next step you should take is to make sure the payment from the sale has been successfully processed with your bank. Check your statements if you have received a check or a digital transfer for your junk vehicle.