Sell My Junk Acura TL
How Much Can I Sell My Acura TL For?
Thanks to a curb weight of 3,700 to 4,000 pounds, the Acura TL can offer its owners a considerable payout on the junk car market. Being a full-featured mid-size luxury sedan, it typically has accessories and other salvageable parts that increase its value. You can expect to get between $300 and $3500 for a junk Acura TL.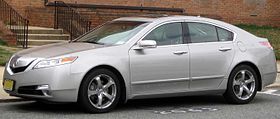 With Junk Car Medics, you can get get a decent payout for your junk cars regardless of their condition or age. Nonetheless, we look at these factors when determining how much money to pay out for these cars. We make our appraisal based on the car's:
• Age;
• Condition;
• Location;
• Weight.
These, along with local scrap metal prices, determine just how much we can pay for a junk car. Running vehicles in decent condition command higher prices than their junk counterparts, and we're willing to pay up to $10,000 for vehicles of this kind. If you have questions about your damaged or worn-out car, give us a call and ask for more information.
An Introduction To the Acura TL
Acura introduced the TL model in 1995, selling it as a mid-size luxury sedan designed to succeed the aging Acura Vigor. During its lifetime, it ranked as the second best-selling luxury sedan in the United States, just behind the BMW 3 Series. The second-generation Acura TL, released in 1999 and improved in 2000, set the standard for what consumers would expect of this nameplate for years to come.
Later Acura TL models would utilize the company's "Keen Edge Dynamic" as a styling vocabulary, giving the car a unique and distinctive design. These cars faired very well on safety tests, being recorded as some of the safest vehicles on the road according to the Insurance Institute for Highway Safety.
We purchase Acura TL models of all kinds, in all conditions:
1995 Acura TL
1996 Acura TL
1997 Acura TL
1998 Acura TL
1999 Acura TL
2000 Acura TL
2001 Acura TL
2002 Acura TL
2003 Acura TL
2004 Acura TL
2005 Acura TL
2006 Acura TL
2007 Acura TL
2008 Acura TL
2007 Acura TL
2008 Acura TL
2009 Acura TL
2010 Acura TL
2011 Acura TL
2012 Acura TL
2013 Acura TL
Should I Sell My Junk Acura TL?
Selling your junk Acura TL can be a big decision, but it's easy to tell whether the idea is a good one for you financially. First, consider how much it would cost to repair your car completely. Then, get an appraisal from one of our junk car experts and find out how much cash you can get for it. If the cash value is more than the value of the car's repairs, you're best off selling it to us.
Don't forget that you can earn more by having parts and accessories that are in demand. For instance, the Acura TL tends to have automatic transmission issues. If you have one of these cars and it has a working transmission, you might be able to get more cash by having us salvage the part. Learn more by calling us today!
Call (855) 437-9728 or request a quote online to sell your Acura TL.