Sell My Junk BMW x3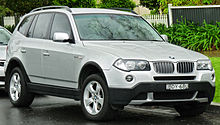 How Much Will I Get For Selling my Junk BMW X3?
This vehicle features a curb weight of at least 3979 pounds, making it a good choice for auto recycling services such as ours. You can expect to be paid anywhere from $400 to $5000 in cash for your junk BMW X3 if you bring it to a reputable auto scrap dealer like us. Many versions of this crossover model feature useful parts and components that can net a considerable return on the secondhand market.
Our expert appraisers tend to look at a few factors when deciding how much to pay for junk BMW X3 vehicles and damaged cars. We need to know:
• The condition of the car;
• How many miles it has;
• Local scrap metal prices;
• The car's age and weight
Some of this is information we already know. For instance, we can look up the curb weight of any particular model and multiply it by the per-pound scrap metal weight to arrive at a base price for your junk car. However, the real value of a car like the BMW X3 comes from reselling its components and extra features. If your car is in good, running condition, you could get up to $10,000 for it.
What's So Special About The BMW X3?
A lot! The BMW X3 is a compact luxury crossover that BMW calls a sports activity vehicle, not to be confused with the more ordinary SUVs on the market. The idea was to create a car with the agility of a compact model and the driving experience of the larger X5. The 2003 initial release was met with wide acclaim, but the vehicle truly took form following a 2005 upgrade that earned it the distinction of Canadian Car of the Year.
This car consistently earns high marks for safety, reliability and performance. The second generation of the vehicle, released in 2010, features all-wheel drive as standard and includes a choice between a six-speed manual transmission and an eight-speed automatic option. This generation is manufactured in Greer, South Carolina, producing a high quality, American-made vehicle with character.
Recent Offers Made for BMW X3 SUV's:
2007 Bmw X3
Zip: 37090
Offer Price: $1280
Offer Date: 09-20-2018
2006 Bmw X3
Zip: 67214
Offer Price: $1380
Offer Date: 09-18-2018
2005 Bmw X3
Zip: 33157
Offer Price: $570
Offer Date: 09-17-2018
2007 Bmw X3
Zip: 97527
Offer Price: $1685
Offer Date: 09-16-2018
2004 Bmw X3
Zip: 32818
Offer Price: $455
Offer Date: 09-15-2018
2004 Bmw X3
Zip: 75040
Offer Price: $725
Offer Date: 09-11-2018
2006 Bmw X3
Zip: 83706
Offer Price: $1130
Offer Date: 09-06-2018
2007 Bmw X3
Zip: 01606
Offer Price: $1370
Offer Date: 09-01-2018
2004 Bmw X3
Zip: 87110
Offer Price: $405
Offer Date: 08-30-2018
2004 Bmw X3
Zip: 60642
Offer Price: $1170
Offer Date: 08-28-2018
2006 Bmw X3
Zip: 80218
Offer Price: $1340
Offer Date: 08-27-2018
2005 Bmw X3
Zip: 89436
Offer Price: $1320
Offer Date: 08-19-2018
2006 Bmw X3
Zip: 64063
Offer Price: $1195
Offer Date: 08-10-2018
2008 Bmw X3
Zip: 33534
Offer Price: $1165
Offer Date: 08-08-2018
Should You Sell Your BMW X3?
If you own a junk BMW X3, you might be considering either selling the car on the used market or trading it in as-is for quick cash. Our company offers top-rates for junk luxury vehicles and we are happy to provide you a quote on yours. If the price of repairing your vehicle to like-new condition is more than the value of the car itself, then you'll get the best deal out of selling the car to us. Give us a call and get a quote today!
Call (855) 437-9728 or request a quote online to sell your BMW X3.