Sell My Junk Buick Rendezvous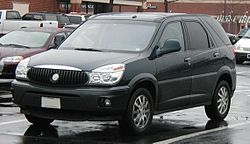 What Is My Junk Buick Rendezvous Worth Today?

Your Buick Rendezvous could be worth anywhere between $400 and $5000 if you sell your car for cash to a reputable junk car buyer like us today. With a curb weight between 4,024 and 4,272 pounds, the car can offer a significant portion of its value through scrap metal alone, but the real worth of your junk Buick Rendezvous will be in salvageable parts and accessories.
Our appraisal team at Junk Car Medics uses a carefully developed system to determine the prices we pay for the cars we buy. Some of the factors we pay attention to are:
• The car's age;
• The age of the vehicle;
• The mileage of the car;
• Its location;
• Local scrap metal prices for that area.
We combine these factors to arrive at a base price. That price can then be raised if it is determined that the car in question has useful, in-demand parts that can be salvaged. For instance, the Buick Rendezvous is known to suffer from sudden failure of the transmission pressure control solenoid quite often. If your car has this particular component in good working order, it may make it more valuable on the auto recycling market.
The History of the Buick Rendezvous
Buick released this mid-size crossover SUV in 2002. The four-door car sits atop a short minivan platform and features four-wheel drive as well as an automatic transmission and a V-6 engine. It is notable for being the first truck Buick introduced in its lineup since the year 1923. One of the most valuable features of the Buick Rendezvous was the optional third-row bench that allowed it to carry seven passengers. At the time of release, this feature was not yet offered on any competing crossover SUV.
The Buick Rendezvous was a sales success for the company, bringing in a brand new consumer base that consisted of young, wealthy buyers who would otherwise never have considered buying a Buick. However, the Rendezvous served out its usefulness by the year 2007 and was thereafter discontinued.
Recent Offers Made for Buick Rendezvous SUV's:
2005 Buick Rendezvous

44111
$610
03-24-2023
2005 Buick Rendezvous

52205
$285
03-23-2023
2003 Buick Rendezvous

19082
$620
03-18-2023
2005 Buick Rendezvous

32822
$585
03-17-2023
2004 Buick Rendezvous

65804
$380
03-16-2023
2003 Buick Rendezvous

33328
$520
03-13-2023
2003 Buick Rendezvous

37040
$415
03-11-2023
2002 Buick Rendezvous

33712
$550
03-09-2023
2007 Buick Rendezvous

93291
$320
03-08-2023
2002 Buick Rendezvous

62702
$130
03-07-2023
2003 Buick Rendezvous

97223
$560
03-07-2023
2005 Buick Rendezvous

44111
$590
03-06-2023
2005 Buick Rendezvous

64082
$435
02-27-2023
2004 Buick Rendezvous

60435
$480
02-25-2023
2005 Buick Rendezvous

43211
$435
02-24-2023
Is It Worthwhile to Junk My Buick Rendezvous?
If you own a damaged Buick Rendezvous you'd like to sell, you are likely undecided between the option of selling it as-is to a junk car buyer like us or investing in the car and selling it on the used car market.
We have a solution to this dilemma: First, get an appraisal on the value of your car in its current condition. Next, get a reputable mechanic to offer an estimate on the cost of repairing the car completely. If the repair costs are greater than the car's "as-is" value, you are better off selling it to us today. Get a quote from one of our experts and find out now!
Call (855) 587-0227 or request a quote online to sell your Buick Rendezvous.