Sell My Junk Cadillac Eldorado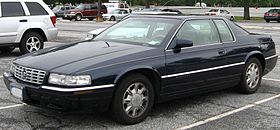 How Much Cash Will My Junk Cadillac Eldorado Get Me?
Are you having a tough time trying to get someone to buy your Eldorado? That's probably because you're using a passive method. Don't use a method that requires you to wait for someone to call you. You can sell your Cadillac Eldorado to us at Junk Car Medics and possibly get cash in your hands today. We buy cars of all types, manufacturers, and conditions. We will buy junk just as quickly as we will buy brand new vehicles.
Payments Based on Weight not State
We calculate our prices by starting with the weight of your vehicle and then considering the other aspects of it. An Eldorado is roughly 4,900 pounds. You could get more than $4,000 for it considering the circumstances. Call us and find out. Don't hesitate because scrap metal prices change every day. The deal you could get today may not be the same as tomorrow's, so you should seize the moment.
Don't Waste Your Time on Other Methods
Leave the classified ads and the "for sale" signs alone. You don't have to wait for anyone to come to you. You can call us and know for sure that your car will be sold. We'll come straight to your home or office and tow it away for free.
Recent Offers Made for Cadillac Eldorado Cars:
1976 Cadillac Eldorado

95838
$425
03-18-2023
2000 Cadillac Eldorado

42330
$230
03-12-2023
1994 Cadillac Eldorado

16365
$170
02-01-2023
1998 Cadillac Eldorado

28303
$220
01-26-2023
1999 Cadillac Eldorado

33916
$250
01-23-2023
2002 Cadillac Eldorado

33712
$475
01-04-2023
1976 Cadillac Eldorado

92102
$315
12-13-2022
2000 Cadillac Eldorado

53216
$455
11-16-2022
1985 Cadillac Eldorado

33809
$485
11-15-2022
1997 Cadillac Eldorado

80260
$385
11-12-2022
1998 Cadillac Eldorado

60448
$455
11-03-2022
1977 Cadillac Eldorado

98004
$215
09-29-2022
1995 Cadillac Eldorado

95205
$250
08-24-2022
1997 Cadillac Eldorado

95111
$315
08-22-2022
1970 Cadillac Eldorado

89110
$250
08-09-2022
I Want to Sell My Car! How Can I Get a Quote on My Cadillac Eldorado?
You don't have to wait for anyone or anything. You can sell your Cadillac Eldorado today by contacting us to get the process started quickly. The number to our facility is 855-587-0227. All we do is buy vehicles, so you should not have to wait long to get assistance. You can use the online form if you would like a quote as well. Just answer some questions about your car and send it to us online. We'll get back to you with a price and you can say yes to the sale if the price is right for you.
Call (855) 587-0227 or request a quote online to sell your Cadillac Eldorado.