Sell My Junk Cadillac Escalade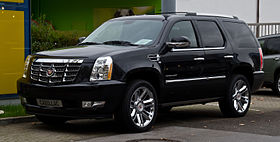 How Much Is My Cadillac Escalade Worth?
"How much can I get if I sell my car for cash?," you might be thinking. The Cadillac Escalade has a curb weight of between 5,550 and 5,800 pounds, giving it a considerable advantage when sold as a damaged junk car. When there are useful parts and accessories in salvageable condition, the amount of cash you get for your Escalade increases. Generally, you can look at a payday of between $400 and $4000, although some may easily be worth more.
The Cadillac Escalade can earn you a decent payout depending on some of the factors that junk car buyers like us usually look for when appraising vehicles. Some of these include:
• The age of your car;
• Its mileage;
• Its condition;
• The curb weight of the car;
• Local scrap prices
At Junk Car Medics®, we're prepared to offer up to $10,000 for running cars in decent condition, and the value of secondhand Escalades means you might easily reach that figure if your have a damaged Escalade you'd like to sell for fast cash. We regularly purchase these cars and offer decent sums of cash for them.
Information about the Cadillac Escalade
The Escalade was Cadillac's first major entry in the world of SUVs. The company needed to compete with other popular vehicles in this class such as the Lincoln Navigator and designed a full-size luxury SUV based on the older GMC Yukon Denali. The first few Escalade model years looked very much like badge-engineered Yukon Denalis, and the the manufacturer skipped its 2001 production year, but a major update occurred in 2002 and brought out the Escalade we know today.
The third-generation 2007 Cadillac Escalade took these redesigns further, establishing the vehicle as the premier luxury SUV of its class. The brand continues to update the vehicle, with the last major redesign occurring in 2015.
Recent Offers Made for Cadillac Escalade Trucks:
2007 Cadillac Escalade
Zip: 30094
Offer Price: $2170
Offer Date: 05-21-2019
2002 Cadillac Escalade
Zip: 92504
Offer Price: $100
Offer Date: 05-20-2019
2002 Cadillac Escalade
Zip: 29201
Offer Price: $230
Offer Date: 05-17-2019
2002 Cadillac Escalade
Zip: 98408
Offer Price: $560
Offer Date: 05-17-2019
2002 Cadillac Escalade
Zip: 35127
Offer Price: $535
Offer Date: 05-15-2019
2000 Cadillac Escalade
Zip: 79916
Offer Price: $435
Offer Date: 05-13-2019
2000 Cadillac escalade
Zip: 30513
Offer Price: $195
Offer Date: 05-12-2019
2007 Cadillac Escalade
Zip: 53204
Offer Price: $2445
Offer Date: 05-12-2019
2004 Cadillac Escalade
Zip: 92154
Offer Price: $790
Offer Date: 05-11-2019
2002 Cadillac Escalade
Zip: 33767
Offer Price: $455
Offer Date: 05-10-2019
2000 Cadillac Escalade
Zip: 92626
Offer Price: $295
Offer Date: 05-07-2019
2004 Cadillac Escalade
Zip: 90001
Offer Price: $690
Offer Date: 05-06-2019
2005 Cadillac Escalade
Zip: 28217
Offer Price: $270
Offer Date: 05-06-2019
2003 Cadillac Escalade
Zip: 33071
Offer Price: $805
Offer Date: 05-04-2019
Should I Sell My Cadillac Escalade?
If you own a damaged Escalade, you will want to sell it for cash if the cost of repairs outweigh the retail value of the vehicle on the secondhand market. Get an appraisal from one of our experts to find out more about your vehicle and determine just how much you can expect to get for selling it today.
You can get more for your car if it has useful parts and accessories that are in demand. For example, the 2014 model year was recalled due to a faulty plastic weld in the airbag system, making functional Escalade airbags a premium item. Escalade speedometers and differentials have been known to break down, as well, so if your car has working ones, you might be able to leverage that towards a better payout. Call us to learn more!
Call (855) 437-9728 or request a quote online to sell your Cadillac Escalade.