Sell My Junk Chevrolet Cavalier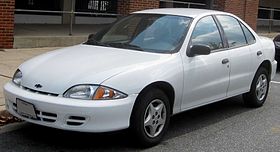 How Much Cash Will I Get For Selling my Junk Chevrolet Cavalier?
Generally, you can get between $150 and $750 for a damaged, worn out junk Chevrolet Cavalier. One of the primary factors affecting the price is the car's curb weight of 2,617 pounds, though there are others. If your Cavalier has useful parts that can be sold on the used market, it may net even more through a reputable auto recycler like Junk Car Medics.
Junk car buyers like us buy junk Chevrolet Cavaliers consistently, and we pay attention to a few important factors when appraising them:
• The vehicle's mileage;
• The condition of the car;
• The age;
• Its curb weight;
• The car's location
If you have a junk Chevrolet Cavalier you're interested in selling, you can get more for it if it has parts and components that are in high demand. For example, many of these cars have faulty window motors, making the power window apparatus non-functional. If your car is a wreck but its window motors work, that could give it a considerable boost in value from an auto recycling perspective.
The Chevrolet Cavalier: an Introduction
Chevrolet began producing the Cavalier in 1982 and discontinued production in 2005. The Cavalier enjoyed a period of heightened success in the 80s, while sales slumped in the 90s before a 1995 rebranding reinvigorated the nameplate. Despite this, the car didn't score well in safety tests administered by the Insurance Institute for Highway Safety, leading to its discontinuation a decade later.
Recent Offers Made for Chevrolet Cavalier Cars:
2002 Chevrolet Cavalier

06109
$515
11-15-2022
2003 Chevrolet Cavalier

37765
$80
11-08-2022
2002 Chevrolet Cavalier

17601
$600
10-26-2022
2004 Chevrolet Cavalier

89031
$80
09-13-2022
2004 Chevrolet Cavalier

85008
$500
09-08-2022
2002 Chevrolet Cavalier

68135
$555
08-30-2022
2004 Chevrolet Cavalier

06371
$555
06-18-2022
2001 Chevrolet Cavalier

77006
$560
06-11-2022
1985 Chevrolet Cavalier

44446
$510
06-07-2022
2000 Chevrolet Cavalier

17543
$510
05-11-2022
2003 Chevrolet Cavalier

18042
$610
05-09-2022
1988 Chevrolet Cavalier

17019
$520
05-06-2022
1988 Chevrolet Cavalier

17019
$520
05-06-2022
2005 Chevrolet Cavalier

32773
$680
04-15-2022
1996 Chevrolet Cavalier

38115
$80
03-15-2022
Is It Time To Junk my Chevrolet Cavalier?
If you own a damaged, worn out or non-running Chevrolet Cavalier, you could earn quick cash by selling it to us. To determine whether that's right for you, you should consider whether the cost of repairing the vehicle is greater than the amount of money it would yield on the used car market.
If the cost of repairing it is too great, your best option is contacting us for an appraisal. We'll offer you a price based on the factors described above to determine how much your car is worth and then make you an offer in cash for it. Contact us today to learn more on how to get instant junk car quote.
Call (855) 587-0227 or request a quote online to sell your Chevrolet Cavalier.