Sell My Junk Chevrolet Tracker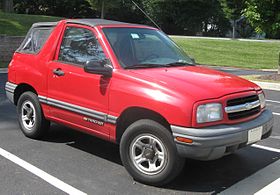 How Much Cash Will My Junk Chevrolet Tracker Get Me?
We bet that you are wondering: "how can I sell my car for cash with as little hassle and annoyance as possible?" Well, we have that answer for you! If you have an old Tracker that you really just want to part with, either because you have a new vehicle or are trying to purchase one, Junk Medic Cars can help! We purchase any type of vehicle, no matter what the condition of it is and if it runs or not. We buy any make or model and it doesn't matter how many miles are on it when we buy it. It simply doesn't matter to us. But that is certainly not the best part! We always pay cash for the vehicles that we purchase. We are well aware that no one wants to wait around for a check to clear or a direct deposit to hit their account when they are eager to sell their car. We use a few different factors to determine what your car is worth to us, the weight of the automobile being one of them. Generally, a Chevrolet Tracker will weigh anywhere between 2,866 to 2,987 pounds, meaning you can get paid thousands for your vehicle today!
The way we factor how much we buy old vehicles for comes down to a few different things. For one, we often salvage parts and components of the vehicles we buy through a number of buyers within the auto recycling market. Your car could be worth a lot, especially when the market price of scrap goes up. But one of the biggest determinations is the weight of the vehicle. Many salvage yards pay per pound, so the heavier the vehicle, the better. We also consider the age of the vehicle, the current condition, and the make and mileage of the Chevrolet when we make a deal.
We often hear the same thing from our valued customers, and that is how they tried to sell their Chevrolet Tracker themselves and what a huge headache it was for them. You can easily place an ad in your local paper or list it for sale online, but no one really wants that kind of hassle, do they? You'll get multiple phone calls, texts and e-mails from potential buyers who usually end up blowing you off in the end. Or, they will come out to look at the car and then offer you an insanely low price for it. Just bypass this aggravation and let us come to you! We will pay you cash for any vehicle you own, including the Chevrolet Tracker, with no argument or haggling. We even cover the towing charge if your vehicle doesn't run.
Recent Offers Made for Chevrolet Tracker Vehicles:
2000 Chevrolet Tracker
Zip: 91706
Offer Price: $210
Offer Date: 03-20-2019
2000 Chevrolet Tracker
Zip: 98282
Offer Price: $115
Offer Date: 03-19-2019
2003 Chevrolet Tracker
Zip: 53120
Offer Price: $245
Offer Date: 03-19-2019
2003 Chevrolet Tracker
Zip: 60475
Offer Price: $240
Offer Date: 03-19-2019
2003 Chevrolet Tracker
Zip: 80226
Offer Price: $450
Offer Date: 03-17-2019
2002 Chevrolet Tracker
Zip: 95864
Offer Price: $40
Offer Date: 03-15-2019
2001 Chevrolet Tracker
Zip: 93244
Offer Price: $145
Offer Date: 03-14-2019
2003 Chevrolet Tracker
Zip: 85208
Offer Price: $305
Offer Date: 03-11-2019
2001 Chevrolet Tracker
Zip: 45333
Offer Price: $290
Offer Date: 03-11-2019
2001 Chevrolet Tracker
Zip: 32714
Offer Price: $195
Offer Date: 03-08-2019
2000 Chevrolet Tracker
Zip: 17319
Offer Price: $270
Offer Date: 03-05-2019
1998 Chevrolet Tracker
Zip: 53221
Offer Price: $250
Offer Date: 03-05-2019
2000 Chevrolet Tracker
Zip: 15221
Offer Price: $220
Offer Date: 03-02-2019
If you are waiting for the best part, here it is! We pay cash for every vehicle we buy. Junk Medic Cars will always come out to you so that you aren't making special trips to try and sell your Chevrolet Tracker. We will give you the best price for the vehicle and we always pay in cash! Use the money you make as a down payment for another car or even to buy a used vehicle with straight cash. If the car doesn't run, let us know and we will bring out a tow truck driver to get it off of your property for free. You'll get nothing but cold, hard cash for your car the very day you call! Give Junk Car Medics a call today when you need cash for your old Tracker-you won't be sorry when the green is in your hand!
Call (855) 437-9728 or request a quote online to sell your Chevrolet Tracker.