Sell My Junk Chrysler Pacifica
How Much Can I Sell My Junk Chrysler Pacifica For?
Your Chrysler Pacifica has a curb weight of between 4,330 and 4,9310 pounds. This gives it enough weight to attract the eye of a junk car buyer who resells vehicles for scrap metal. However, the bulk of the value of your junk car is in the salvageable accessories, parts and components it has. In general, you should be able to earn between $350 and $4000 for your car.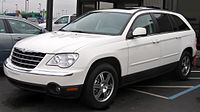 Junk car buyers like us take a few factors into consideration when making offers on junk vehicles. The value of your car depends on:
• The car's curb weight;
• The car's age;
• Its mileage;
• Its location;
• Local scrap metal prices in that area.
In addition, the presence and demand for accessories and components can highly influence the price your car commands on the salvage market. We are prepared to purchase used cars of any kind, including damaged vehicles and cars that don't run. However, decent running vehicles in good condition can earn up their owners up to $10,000 from us, so it's worth it to get a quote.
A Little Bit About the Chrysler Pacifica
This mid-size crossover, first released in 2003, was the first result of the Daimler/Chrysler merger in 1998. The car's concept was that of a "sports-tourer" equally suited to the tasks of an SUV as to those of a minivan. The first-generation Pacifica had extensive luxury features such as DVD entertainment systems and load-leveling suspensions. Over time, however, Chrysler found it had better results marketing the model in a more accessible manner and removing some of the higher-priced features.
Early versions of this car were equipped with underpowered engines, considering the vehicle's weight. Chrysler rectified this in 2007 by adding a V6 engine and a six-speed automatic transmission. However, this too little, too late to save the brand's sagging sales figures, and in 2008 the model was discontinued.
We'll buy any Chrysler Pacifica model year on the market:
2003 Chrysler Pacifica
2004 Chrysler Pacifica
2005 Chrysler Pacifica
2006 Chrysler Pacifica
2007 Chrysler Pacifica
2008 Chrysler Pacifica
Is It Worth It To Sell My Junk Chrysler Pacifica?
You might be interested in selling a damaged Chrysler Pacifica when you realize you can make fast cash today from reputable junk car buyers like us. However, there is always the possibility that you'll make more money in the long-run by repairing the car and selling it on the used market.
In order to explore that possibility, we recommend you compare a quote from one of our appraisal experts with the cost of totally repairing your car. If the cost of repairs is greater than the value of the car itself, you're better of selling it to us today and earning as much as you can quickly. Give us a call today and find out how much your junk car is worth!
Call (855) 437-9728 or request a quote online to sell your Chrysler Pacifica