Sell My Junk Dodge Intrepid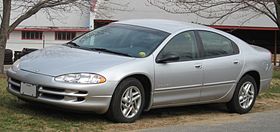 How Much Cash Will My Junk Dodge Intrepid Get Me?
If you have a Dodge Intrepid, you would do well by selling it to us. Why? Because we are a no-nonsense car buying company that does nothing but buy cars all day long. Call us if you have a bill to pay, a repair to make, or you just plain do not like your vehicle any longer. We will take it off of your hands quickly. Yes, we will come out to your home or office, put cash in your hand, and then tow your Intrepid away at no cost to you. If you're wondering how we can do all that, we will let you in on the secret:
It's all in the Weight
Our purchasing model starts with your vehicle's curb wait, which is about 3,400 pounds. We get our figures by looking at the curb weight against the current scrap metal prices. That provides us with a base figure that we then adjust according to the condition, mileage, and other important details about your vehicle. We can do what we do because we calculate things much differently than other car buyers do. We use the best part of your car instead of the worst.
I Want to Sell My Car, But It's Not Looking Great...
Some consumers unnecessarily feel embarrassed about their Intrepids because they are dented, rusted, nicked, burned, broken, or just plain ugly. The best part about dealing with us at Junk Car Medics is that we will give your car some love no matter what condition it is in. We will buy your car immediately because we can always find use for it. The way we see it, your trash is our treasure. Your junk is our gem. We will take good care of your vehicle and make sure that it gets into the right hands.
Forsake All the Rest
It may seem appealing to you to take a chance with a classified ad site or put a sign in your rear window. Heck, you may even want to trade your Intrepid in for a new car. Don't do it! Don't do any of those things. Trade-ins usually end up as give-ins. You virtually give your car away for nothing and you still pay top dollar on the "new" car. Classified ads can get complex depending on the flakiness of the crowd that uses it. Your interested buyers may lose interest without telling you. The "for sale" sign sometimes works but most of the time you just end up with no money and sun-faded sign. Call us and have your need for cash taken care of immediately.
Recent Offers Made for Dodge Intrepid Cars:
1996 Dodge Intrepid

53227
$455
03-21-2023
2004 Dodge Intrepid

67216
$265
03-15-2023
2002 Dodge Intrepid

85225
$465
03-06-2023
2001 Dodge Intrepid

11417
$650
02-26-2023
2004 Dodge Intrepid

01841
$265
12-10-2022
1999 Dodge Intrepid

97404
$240
11-06-2022
1995 Dodge Intrepid

55118
$325
10-17-2022
2004 Dodge Intrepid

89122
$255
10-07-2022
1997 Dodge Intrepid

43211
$290
09-18-2022
2002 Dodge Intrepid

48093
$280
09-14-2022
2004 Dodge Intrepid

89131
$255
09-10-2022
2003 Dodge Intrepid

28120
$275
09-09-2022
2002 Dodge Intrepid

27408
$230
09-03-2022
1997 Dodge Intrepid

30624
$215
08-25-2022
2002 Dodge Intrepid

64118
$280
07-21-2022
Get Started Right Now
Sell your Dodge Intrepid to us right now. The process is almost as easy as tying your shoes is. All you need to do is contact us by phone or by short form and let us know what you have to sell. We will provide you with a quote and then you will let us know if the quote meets your expectations and you would like to complete the purchase. If yes, our expert car buyer will come and relieve you of your obligation of Intrepid keeping.
Call (855) 587-0227 or request a quote online to sell your Dodge Intrepid.