Sell My Junk Dodge Neon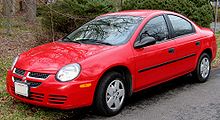 How Much You Can Get Paid in Cash For Your Junk Dodge Neon?
If you own a Dodge Neon that's damaged, worn out or otherwise not in running condition, you could get anywhere from $150 to $800 for it on the auto recycling market. The car's curb weight of 2,900 pounds gives it enough heft to yield a good payout when scrap metal prices are high, and that can be improved by having functional parts and accessories.
Selling a junk Dodge Neon is a quick and easy way to make some fast cash. Junk car buyers like Junk Car Medics are always interested in this particular model. Typically, we look at these factors when determining how much we're willing to pay for one:
• The car's condition;
• The car's mileage;
• Local scrap metal prices;
• The age of the car.
When it comes to running Dodge Neon models, we're willing to pay up to $10,000 for used cars in decent, functional condition. This provides a clear incentive for owners of used Dodge Neon cars to give us a call and get a quote—you may earn much more than you expect. It has never been easier to get instant junk car quote.
Some History and Info on The Dodge Neon
First introduced in 1995, the Dodge Neon has a history of nameplate changes. You may know the car as the Chrysler Neon or even the Plymouth Neon, as these are all brands owned by the same manufacturer. The first Neons had unconventional color options—typically bright, exuberant hues that fit the name of the model. In time, buyers opted for more traditional colors and Dodge played along.
The Dodge Neon ended production in 2005, but has been returned as of 2016. As junk car buyers, we're interested in paying top-dollar.
Recent Offers Made for Dodge Neon Cars:
2004 Dodge Neon

40515
$355
03-24-2023
2005 Dodge Neon

37323
$160
03-20-2023
2000 Dodge Neon

64052
$245
03-20-2023
2002 Dodge Neon

95610
$430
03-11-2023
2000 Dodge Neon

33702
$450
03-01-2023
1999 Dodge Neon

77511
$565
02-25-2023
2004 Dodge Neon

68020
$290
02-22-2023
2005 Dodge Neon

20109
$425
02-03-2023
2003 Dodge Neon

63645
$130
02-03-2023
2003 Dodge Neon

35242
$315
01-31-2023
2003 Dodge Neon

48228
$370
01-28-2023
2005 Dodge Neon

92392
$275
01-22-2023
2000 Dodge Neon

97116
$275
01-10-2023
2005 Dodge Neon

75063
$375
01-08-2023
2004 Dodge Neon

78228
$280
12-30-2022
Should I Junk My Dodge Neon?
If you own a Dodge Neon that has sustained damage or is in otherwise bad shape, you could get a decent payday out of selling it for cash. You should determine whether repairing the vehicle costs more than its value on the used car market. If that's the case, ask us for a quote and we'll walk you through the process.
You could earn more for your Neon if it has parts and components that are in-demand. For example, many of these cars suffer from a defective engine cooling fan that causes the engine to overheat easily. If your car has a functional cooling fan, you can surely make more money with us by parting the component out than if it doesn't. Contact us today and get a quote to find out more!
Call (855) 587-0227 or request a quote online to sell your Dodge Neon.