Sell My Junk Ford Aerostar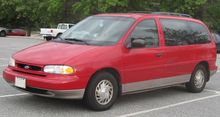 How Much Cash Will My Junk Ford Aerostar Get Me?
Do you own a Ford Aerostar with which you would like to part ways? Do you say to yourself, "I wish I could sell my car for cash"? Junk Car Medics is a company that will sincerely divorce you from your vehicle. We are dedicated car buyers that give our car buying business 100 percent of our attention at all times. We love that we can provide vehicle owners with the cash they need for a wide variety of purposes. We make the process so convenient for our clients that they find it difficult to say no. We offer amazing quotes and free towing from your home or office. How can anyone resist?
Our Process in a Nutshell
You probably think of your Aerostar as a burden because it's so heavy, right? What if we told you that you could get paid for every one of its 3,370 pounds? It's true. Our system is one that utilizes scrap metal prices to come up with the figure that we give you for your quote. We're not offering you money based on your Aerostar's age, weight, looks, or drivability. We're offering you money based on its pounds. Don't get us wrong; we do consider the other factors, but only after we calculate the price for the weight.
Yes, We Want Your Aerostar
Yes, we absolutely and positively want your Aerostar vehicle. We take damaged goods as well as pristine vehicles. We believe that there is a home and a place for every vehicle. Don't be too shy to contact us because you think your vehicle is too ugly, dented, old, rusted, foreign, malfunctional, or any other reason. You will find that we want to pay you anyway. We want to give you money. That's what we truly want to do, and we will take your junk car to accomplish that.
Why Other Practices Don't Work
Many people try to use other methods such as classified ads, signage, and the dreaded "trade in" institution to sell their cars. Don't be one of those consumers who misses out because of bad choices. Call us before you get involved with an unreliable sales process. The benefits of choosing us over other methods and buyers are:
Faster service
Committed purchase agreements
Fair prices
Friendly service
No sales fees
Recent Offers Made for Ford Aerostar Vehicles:
1991 Ford Aerostar
Zip: 22952
Offer Price: $80
Offer Date: 11-12-2018
1991 Ford Aerostar
Zip: 89107
Offer Price: $90
Offer Date: 11-11-2018
1997 Ford Aerostar
Zip: 92411
Offer Price: $135
Offer Date: 11-10-2018
1994 Ford Aerostar
Zip: 72202
Offer Price: $115
Offer Date: 11-09-2018
1996 Ford Aerostar
Zip: 78028
Offer Price: $20
Offer Date: 11-08-2018
1993 Ford Aerostar
Zip: 91401
Offer Price: $130
Offer Date: 11-07-2018
1997 Ford Aerostar
Zip: 43143
Offer Price: $65
Offer Date: 11-07-2018
1996 Ford Aerostar
Zip: 46226
Offer Price: $175
Offer Date: 11-07-2018
1995 Ford Aerostar
Zip: 98133
Offer Price: $50
Offer Date: 11-05-2018
1989 Ford Aerostar
Zip: 89102
Offer Price: $90
Offer Date: 11-05-2018
1992 Ford Aerostar
Zip: 30004
Offer Price: $200
Offer Date: 11-05-2018
1995 Ford Aerostar
Zip: 84037
Offer Price: $75
Offer Date: 11-03-2018
1993 Ford Aerostar
Zip: 78209
Offer Price: $120
Offer Date: 11-02-2018
Get Your Quote Now
Are you ready to sell your Ford Aerostar? We're ready to buy it from you. Give us a call at 855-437-9728 if you want to receive an awesome quote for you. One of our professional buyers will contact you and provide you with a figure. You will simply tell that person that you want to sell your vehicle if you like the quote that he or she gives you. The tow truck will be on its way to remove the van from your yard after the buyer gives you the money. We always try to complete the process as quickly as possible so that you can get cash in your hands within 24 hours.
Call (855) 437-9728 or request a quote online to sell your Ford Aerostar.