Sell My Junk Geo Metro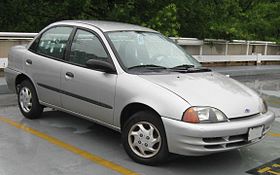 How Much Cash Will My Junk Geo Metro Get Me?
Are you looking for a worry-free and hassle-free car sale transaction? Junk Car Medics is the company that you want to call if you are ready to sell your Geo Metro without any aggravation. We are a car buying company that exclusively deals in buying cars, and we like to get it done quickly. Call us if you want to put some cash in your hands today. You'll be glad you did.
What's so Special About Junk Car Medics?
We're glad you asked. Our method of value makes us different from other companies that conduct similar business. We use the weight of the car and check it against scrap metal prices for that weight type. The Geo Metro weighs an average of about 1753 pounds.
Get the Most Reasonable Quotes Ever
Our goal is to provide you with a quote that is more than reasonable. Therefore, we use the most valuable element to create your raw quote. Then we factor some of the other information that you give us like the mileage and the damages. The cool thing about working with us is that we will accept just about any model. We do not concern ourselves with blemishes, age, or other trivial features. We know that each car is worth something and we value your business. You may think that you have a piece of junk on your hands, but it may be a jewel to us. Give us a call and find out just how precious we believe your Metro is.
Skip the Non-Effective Methods
Why bother using a questionable method when you could use a 100 percent fool-proof method? Online classified ads have some positive factors, but they are unreliable. You don't have time for unreliable callers when you need cash. Cheap "for sale" signs are great economically, but just how long do you want to wait for someone to call you? Do you have a month or a year to twiddle your thumbs? Most dealerships will give you "credit" toward a new car if you trade-in your old car, but what are you really getting? It's hard to see an invisible value. With Junk Car Medics, you'll see your profit because we will put it in your hand. We'll get rid of the car that you no longer want, and we'll tow it away for free.
Recent Offers Made for Geo Metro Cars:
1991 Geo Metro
Zip: 97024
Offer Price: $105
Offer Date: 11-04-2018
1991 Geo Metro
Zip: 99169
Offer Price: $35
Offer Date: 10-12-2018
1992 Geo metro
Zip: 85209
Offer Price: $70
Offer Date: 10-05-2018
1993 Geo metro
Zip: 85204
Offer Price: $65
Offer Date: 10-04-2018
1995 Geo Metro
Zip: 80210
Offer Price: $120
Offer Date: 10-03-2018
1992 Geo Metro
Zip: 76040
Offer Price: $195
Offer Date: 10-02-2018
1991 Geo Metro
Zip: 80014
Offer Price: $165
Offer Date: 09-24-2018
1993 Geo Metro
Zip: 84029
Offer Price: $60
Offer Date: 09-21-2018
1997 Geo Metro
Zip: 44281
Offer Price: $200
Offer Date: 09-20-2018
1991 Geo Metro
Zip: 53589
Offer Price: $90
Offer Date: 09-20-2018
1994 Geo Metro
Zip: 76010
Offer Price: $145
Offer Date: 09-17-2018
1994 Geo METRO
Zip: 89130
Offer Price: $65
Offer Date: 08-25-2018
Don't Wait Another Minute
Are you ready to sell your Geo Metro now? Great! We're ready for you to sell it, too. You can contact someone for a magnificent quote by phone or by online form. The number that you can use for phone contact is 855-437-9728. Otherwise, you may complete a questionnaire. Please be as accurate as possible so that the quote will be precise.
A specialist will provide you with an offer, and then you can take some time to think about it. If the offer sounds good to you, then you can let the person know that you agree to it. From there, you can set up a time and date for the purchase specialist to come to your home and office and buy your car.
Call (855) 437-9728 or request a quote online to sell your Geo Metro.