Sell My Junk GMC Sonoma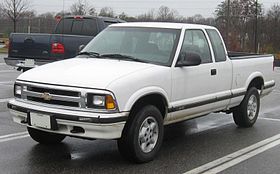 How Much Cash Can I Make Selling My Junk GMC Sonoma?
Your damaged truck could be worth a significant sum on the auto recycling market. Although the particulars may vary, we know that the curb weight of the GMC Sonoma is between 3,112 and 3,247 pounds. This means that you can expect to get between $250 and $3500 for your truck. Much of this value comes from the possibility of salvaging parts and components through our network of junk car parts buyers.
When we make an appraisal on a junk car, we rely on a few factors to determine how much we can afford to pay for it. We're prepared to pay out as much as $10,000 for used cars depending on these factors:
• The car's age;
• The condition of the car;
• Its mileage;
• Local scrap metal prices.
You'll get the best deal when bringing us a GMC Sonoma with useful accessories or other components that can be salvaged and parted out. For example, this particular model is known to have problems with its distributor chain, causing engine issues. If your car has working parts that are in-demand, such as this particular distributor piece, you might be able to earn a bit more when selling your car to an auto recycler.
Why We Buy the GMC Sonoma: Its History
The GMC Sonoma is closely related to the Chevrolet S-10, of which it is a rebadged variant. These cars first appeared in 1982, and were continually updated with ever newer parts and better-performing engine specs on a nearly annual basis until being replaced by a newer compact pickup truck in 2004. Within this time frame, the GMC Sonoma earned its place as one of the more popular and reliable trucks in its class.
In 1996, Isuzu licensed the GMC Sonoma platform to create the Isuzu Hombre, which is another rebadged variant of this particular model. Success was short-lived, however, and that model discontinued production in 2000. The Sonoma remained the leading car in its class until its own discontinuation a few years later.
Recent Offers Made for GMC Sonoma Trucks:
2003 GMC Sonoma

49006
$315
12-02-2022
2003 Gmc Sonoma

67010
$265
11-21-2022
1997 GMC Sonoma

74108
$120
11-13-2022
2003 GMC Sonoma

49006
$435
11-06-2022
2000 Gmc Sonoma

74128
$465
11-02-2022
1999 Gmc Sonoma

53218
$330
10-01-2022
2003 Gmc Sonoma

67010
$315
09-18-2022
1999 GMC Sonoma

33407
$515
09-17-2022
1998 GMC Sonoma

85207
$440
09-17-2022
1999 Gmc Sonoma

92411
$220
09-03-2022
1999 Gmc Sonoma

92411
$220
09-03-2022
2001 Gmc Sonoma

92410
$375
09-02-2022
1998 GMC Sonoma

92411
$190
08-20-2022
2001 GMC Sonoma

43110
$230
08-19-2022
2001 GMC Sonoma

37040
$320
08-13-2022
Is It Time to Junk My GMC Sonoma?
You might want to sell your damaged GMC Sonoma to an auto recycler like us if the cost of repairing it is greater than the value of the truck itself. This is often the case with trucks that have been involved in auto accidents or that have missing, faulty parts.
In general, once the price of repairs is greater than the value of the car itself, you're better off selling it as-is. The longer you wait, the lower the value drops, so if you're thinking, "I'm ready to sell my car!" then you should get on the phone and have one of our specialists offer you a quote today!
Call (855) 587-0227 or request a quote online to sell your GMC Sonoma.