Sell My Junk Honda Prelude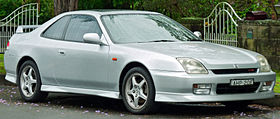 How Much Cash Will My Junk Honda Prelude Get Me?
You might be wondering how you can sell your Honda Prelude without causing yourself a world of trouble and aggravation. Selling your Prelude may be difficult if you use some of the alternative methods, but it will not be difficult if you call the experts at Junk Car Medics. You see, Junk Car Medics will be delighted to take your Prelude off your hands and provide you with free towing, as well. You couldn't beat that even if you had a stick in your hand.
But Weight a Minute...
You're probably wondering how the company can be so generous and offer free towing. It's easy. JCM loves the customers. Plus, the specialists use a unique method to calculate the amount of monies you are going to receive. We use the weight of your car and we size it up against current scrap metal prices. That's how you get such amazing offers when you sell your car to us. The Prelude's weight is about 2,260 lb.
The Best Price You'll Ever Get Is From Us
JCM specialists try to get you the best price possible by reviewing the scrap metal numbers and then factoring in other aspects. For example, they may deduct a little something from the quote if your car won't start.
Other Methods Are Just Plain Unsuccessful
Why waste your time on something that you know is unsuccessful when you can have something that is highly successful? It just doesn't make sense. So fool around with classified ads, signs, or dealers that will try to psyche you out. Deal with JCM and know that you are getting the best price possible. In fact, the company's mission is to make sure that you get the best price possible for your car. That's what makes us happy and proud to be in business. Don't wait another minute if you have been trying to sell your Honda Prelude.
Recent Offers Made for Honda Prelude Cars:
1995 Honda Prelude
Zip: 85207
Offer Price: $125
Offer Date: 11-12-2018
2000 Honda Prelude
Zip: 11738
Offer Price: $250
Offer Date: 11-09-2018
1998 Honda Prelude
Zip: 33612
Offer Price: $410
Offer Date: 11-05-2018
2000 Honda Prelude
Zip: 17202
Offer Price: $100
Offer Date: 11-05-2018
1990 Honda Prelude
Zip: 98663
Offer Price: $100
Offer Date: 10-26-2018
2001 Honda Prelude
Zip: 94545
Offer Price: $315
Offer Date: 10-26-2018
1999 Honda Prelude
Zip: 77031
Offer Price: $210
Offer Date: 10-24-2018
1998 Honda Prelude
Zip: 28210
Offer Price: $185
Offer Date: 10-23-2018
1991 Honda Prelude
Zip: 97217
Offer Price: $105
Offer Date: 10-21-2018
1992 Honda Prelude
Zip: 85040
Offer Price: $115
Offer Date: 10-20-2018
1991 Honda Prelude
Zip: 70749
Offer Price: $105
Offer Date: 10-15-2018
1991 Honda Prelude
Zip: 78332
Offer Price: $35
Offer Date: 10-13-2018
1985 Honda Prelude
Zip: 37214
Offer Price: $140
Offer Date: 10-12-2018
1996 Honda Prelude
Zip: 23322
Offer Price: $95
Offer Date: 10-12-2018
Show on the Road
Are you ready to sell your Honda Prelude to some people who will give a price quote that is out of this world? Great. Let's get this show on the road. There are two ways you can contact us. You can call our dedicated number if you like. That number is 855-437-9728. The other options for you is to send in a short form and let us know what you have. We'll get back to you with a quote immediately. If the quote sounds good to you, let us know. We'll accept your invite and send our car buying expert to you to complete the transaction. You can use the funds for any purpose you so desire.
Call (855) 437-9728 or request a quote online to sell your Honda Prelude.