Sell My Junk Hyundai Santa Fe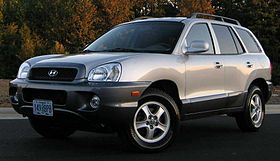 How Much Cash Will My Junk Hyundai Santa Fe Get Me If I Sell My Car for Cash?
If you want to get paid cash for your damaged SUV, consider the auto recycling market. We'll come to you and perform a free removal, no matter the condition of your car. It doesn't even have to be running. Then, we'll pay you for it that same day. While vehicle weights depend on the trim, model year, and options, we know that the Hyundai Santa Fe has a curb weight that ranges from 3,459 to 4,085 pounds.
Want to know the best part? You can expect to sell your car for hundreds or even thousands of dollars.
But how do we appraise junk cars and figure out how much to pay you? There are a few factors that we consider to calculate how much we can afford paying for a vehicle. The car's make and model, mileage, age, weight, and condition all play a part, as well as the local scrap metal price. For most cars, weight is the primary factor we use. If you have a car that's relatively new, then we may take condition into account more. Does your car have parts that are in-demand and still work? That may boost the value, as we have a network of people who buy junk car parts.
Now, if the car is worth it, we're prepared to pay you up to $10,000.
Customer satisfaction is important to us. We want to make sure you get the best price possible so you have a positive experience and hopefully spread the word about our service. That's why we provide a fair and easy experience. We know you could go online and try to sell your car on Craigslist, or list it in the classified section of your local paper. You could even try taking it in to the dealer as a trade-in. Those are certainly more difficult alternatives to our service, though, and they may not work if your car doesn't run.
Bottom line: we'll come to you right away, pay you for your car, and remove it for you.
Recent Offers Made for Hyundai Santa Fe SUV's:
2004 Hyundai Santa Fe

11207
$715
03-20-2023
2002 Hyundai Santa Fe

92691
$445
03-20-2023
2009 Hyundai Santa Fe

15120
$955
03-20-2023
2007 Hyundai Santa Fe

75238
$725
03-20-2023
2010 Hyundai Santa Fe

35803
$1210
03-18-2023
2003 Hyundai Santa Fe

92553
$465
03-17-2023
2005 Hyundai Santa Fe

35405
$440
03-16-2023
2015 Hyundai Santa Fe

28443
$3410
03-15-2023
2001 Hyundai Santa Fe

61104
$440
03-15-2023
2008 Hyundai Santa Fe

49310
$765
03-14-2023
2007 Hyundai Santa Fe

11225
$800
03-13-2023
2010 Hyundai Santa Fe

15370
$755
03-13-2023
2007 Hyundai Santa Fe

32209
$705
03-12-2023
2007 Hyundai Santa Fe

56301
$655
03-11-2023
2004 Hyundai Santa Fe

17103
$380
03-08-2023
If you want to sell your Hyundai Santa Fe as soon as possible, we're here to help. And in many situations, it just makes the most sense financially to sell your car to an auto recycler. Maybe your car took some heavy damage in an accident. Maybe it is starting to break down more and more often, or perhaps it needs repairs that are going to cost you more than the car's current value.
Keep this in mind: the longer you take deciding what to do with your car, the more it's going to depreciate in value.
To make the most money off of your junk car, you have to act right away. Shoot us an email or text message, or just call us up and talk to one of our specialists. They will provide you with a quote, and if you want to make a deal, we'll drive out and pay you cash which you can put towards your next car.
Call (855) 587-0227 or request a quote online to sell your Hyundai Santa Fe.