Sell My Junk Hyundai Tiburon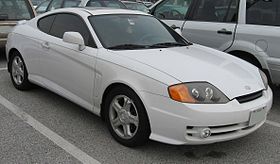 How Much Cash Will My Junk Hyundai Tiburon Get Me?
Looking to make some cash by selling your junk Hyundai Tiburon?
That damaged coupe may bring in a nice chunk of change on the auto recycling market. We know that the Hyundai Tiburon has a curb weight between 2,718 and 3,042 pounds, depending on the engine in it and the options. That could make it worth several hundred or even several thousand dollars.
Here's the best part: you don't even have to get it to us.
What? I can sell my car even if it can't even be driven around anymore? That's right, you don't have to worry about getting your car running if it's having mechanical issues. We provide free removal of every vehicle we purchase. Whether it's in great condition or terrible condition, we'll come get it for you, and then we'll give you cash for it same day.
You're probably curious how much cash you can expect to get for your car.
The easiest way to find out is to call us up and get a quote, but we can tell you about our appraisal process right here. We consider a few factors when determining the amount that we can afford to pay for a car – the make and model, weight, age, condition, and mileage. Since the car's value to us is partially determined by how much we can get for the metal, we also take into account the current local scrap metal prices.
Weight is typically the biggest factor in what we can pay you for your car, but there are exceptions. With newer cars, condition is also very important. Your car may also be more valuable to us if it has working parts that we can sell to our network of junk car part buyers.
Here's the deal: we want to help you get the best price for your car.
Making our customers happy is crucial for us. We understand that you don't have to sell us your car, but we're confident that we'll provide the smoothest experience. Sure, there's always newspaper or Craigslist ads to try selling your car, but then you need to find a buyer willing to pay what you want. You can go the trade-in route, but it's hard to get a good deal trading your car in to a dealership. With us, the sales process is fast and simple.
Recent Offers Made for Hyundai Tiburon Vehicles:
2003 Hyundai Tiburon

32725
$595
03-04-2023
2006 Hyundai Tiburon

95823
$425
02-22-2023
2004 Hyundai Tiburon

90037
$290
01-11-2023
2001 Hyundai Tiburon

64079
$245
12-20-2022
2005 Hyundai Tiburon

74107
$75
12-06-2022
2004 Hyundai Tiburon

85040
$510
12-05-2022
2004 Hyundai Tiburon

07202
$720
11-21-2022
2004 Hyundai Tiburon

85040
$510
11-16-2022
2004 Hyundai Tiburon

85015
$380
10-01-2022
2003 Hyundai Tiburon

97205
$425
09-30-2022
2006 Hyundai Tiburon

89110
$980
09-16-2022
2006 Hyundai Tiburon

89011
$265
09-16-2022
2006 Hyundai Tiburon

34758
$685
09-15-2022
2004 Hyundai Tiburon

92630
$600
09-09-2022
2005 Hyundai Tiburon

80917
$330
09-04-2022
Is the time right to sell your junk car?
The signs are pretty easy to spot – you're spending more money on repairs because the car keeps having mechanical issues, or the car needs repairs that cost more than its current value. Maybe it was just in an accident, leaving you with a sky-high repair bill and a car that doesn't run.
In these kinds of situations, you're far better off selling your Hyundai Tiburon to an auto recycler like us, and the sooner you do it, the better. If you wait around, your car's value will only go lower. By selling now, you get the best price for your car, and you can use the money for your next vehicle.
JunkCarMedics.com is always ready to purchase your car. Get on the phone and call us to talk to one of our specialists. They'll give you a quote for your car today!
Call (855) 587-0227 or request a quote online to sell your Hyundai Tiburon.