Sell My Junk Isuzu Rodeo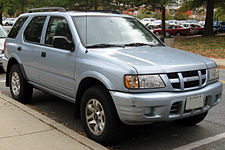 How Much Cash Will My Junk Isuzu Rodeo Get Me?
If you have a damaged SUV, you could make a significant sum of money if you sell your car on the auto recycling market. Obviously options and engine sizes can vary depending on your vehicle's specific setup, but we know that the Isuzu Rodeo has a curb weight between 3,490–3,820 pounds, and that could net you anywhere from $250 to well over $3,000.
Now, at this point you might be wondering: I've got an Isuzu Rodeo that doesn't run anymore, how am I going to get it to you?
Let us take care of that. Whatever condition it's in and whether the car runs or not, we'll come pick it up and remove it, free of charge.
You're probably wondering how we appraise junk cars. After all, even if it doesn't run, you still want to get the most for it that you can. There are a few factors we consider, but the most important is the weight of your vehicle. If it's still fairly new, then its condition is also important. We also take into account the make and model, mileage, and scrap price.
Now, since we have a network of junk car part buyers, your car might be appraised a bit higher if it has parts that work and are in-demand.
Word of mouth is big in our business, and that's why we want you to get the best price for your car. We realize that you have other options with your car, but we're confident that you'll have the easiest time working with us.
Sure, you could sell it on your own, but finding a buyer could take weeks, months, or longer, as there probably isn't much demand. List it on Craigslist, in the newspaper, or wherever else you want, but the fact is that if people aren't interested, you could be waiting a long time. You could try trading it in if you're planning on buying a car, but then you'll be trying to get a fair price from a car dealership.
Recent Offers Made for Isuzu Rodeo Trucks:
2003 Isuzu rodeo
Zip: 33510
Offer Price: $240
Offer Date: 11-13-2018
2002 Isuzu Rodeo
Zip: 77009
Offer Price: $175
Offer Date: 11-11-2018
1999 Isuzu Rodeo
Zip: 32043
Offer Price: $70
Offer Date: 11-11-2018
1994 Isuzu Rodeo
Zip: 38127
Offer Price: $50
Offer Date: 11-10-2018
1999 Isuzu Rodeo
Zip: 77357
Offer Price: $210
Offer Date: 11-08-2018
1998 Isuzu Rodeo
Zip: 35173
Offer Price: $140
Offer Date: 11-08-2018
1999 Isuzu Rodeo
Zip: 33510
Offer Price: $230
Offer Date: 11-07-2018
2002 Isuzu Rodeo
Zip: 77316
Offer Price: $225
Offer Date: 11-06-2018
1997 Isuzu Rodeo
Zip: 28803
Offer Price: $5
Offer Date: 11-06-2018
2001 Isuzu Rodeo
Zip: 80521
Offer Price: $140
Offer Date: 11-06-2018
2004 Isuzu Rodeo
Zip: 85716
Offer Price: $280
Offer Date: 11-05-2018
1999 Isuzu Rodeo
Zip: 32708
Offer Price: $200
Offer Date: 11-05-2018
2001 Isuzu Rodeo
Zip: 92691
Offer Price: $120
Offer Date: 11-03-2018
Here's the deal: if your car is going to cost more to repair than its actual value, it just doesn't make financial sense to keep it.
Maybe you were involved in an accident. Maybe it has faulty parts. Or maybe, Father Time has just taken its toll. Whatever the reason, when those repair costs get out of hand, your best option is to sell your Isuzu Rodeo as-is to an auto recycler like us.
Time is of the essence if you want to maximize the value of a junk car. The longer you wait to pull the trigger, the more the value is going to drop. Junk Car Medics has specialists ready to offer you a quote over the phone right away. Take out your cell phone and give us a call. You've got nothing to lose, and if you like what you hear, we'll handle everything from the removal to getting you paid.
Call (855) 437-9728 or request a quote online to sell your Isuzu Rodeo.