Sell My Junk Kia Sportage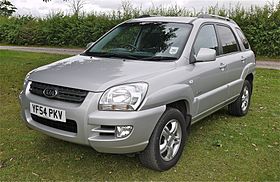 Your Junk Kia Sportage Is Worth Cash—Find Out How Much!
Just how much money can I get if I sell my car for cash? When determining the price of your Kia Sportage, one of the most important factors to keep in mind is the curb weight of the car. This model has a curb weight of 3,157 pounds. What this means for owners of junk vehicles is that you can easily see anywhere between $300 and $2500 when selling your car to an auto scrap dealer.
When we make offers on junk cars, we tend to look at certain factors that tell our expert appraisers how much the car is worth. These factors include:
• The car's age;
• The car's mileage;
• Its location;
• The condition of the vehicle;
• Local scrap metal prices.
With these items correctly appraised, we have a base price that we can then raise based on the presence of valuable accessories or other salvageable parts. For example, The Kia Sportage is known to have problems with its AC compressor clutch, which makes the air conditioner unable to push out cold air. These cars also occasionally develop leaking fuel tanks. If your Sportage has a working AC compressor clutch or a fuel tank in good condition, it may earn more on the salvage market because of it.
Why the Kia Sportage? Its History and Value
Kia began producing the Spotrage in 1993, introducing the compact SUV to its lineup after cementing an alliance with Ford and Mazda. As a result of this arrangement, Kia received parts and technology from Ford while offering inexpensive Korean manufacturing facilities to the conglomerate, so the Kia Sportage shares many features and design capabilities with Mazda and Ford vehicles of the time.
Unfortunately for Kia, the Sportage's beginning on the global market was a tenuous one. The first generation of the vehicle didn't reach its full sales potential and the second-generation models released between the years 1997 and 2002 were recalled twice for wheel dismounting problems. These problems were eventually resolved with a 2004 release of an updated Kia Sportage that was celebrated as one of the safest, most reliable vehicles on the road and consequently, one of the least expensive vehicles to insure.
Recent Offers Made for Kia Sportage SUV's:
1997 Kia Sportage
Zip: 89509
Offer Price: $60
Offer Date: 01-20-2019
2000 Kia Sportage
Zip: 76543
Offer Price: $240
Offer Date: 01-19-2019
2000 Kia Sportage
Zip: 92551
Offer Price: $95
Offer Date: 01-17-2019
2005 Kia Sportage
Zip: 64138
Offer Price: $195
Offer Date: 01-16-2019
2001 Kia Sportage
Zip: 29546
Offer Price: $125
Offer Date: 01-14-2019
2007 Kia Sportage
Zip: 19153
Offer Price: $200
Offer Date: 01-12-2019
2000 Kia Sportage
Zip: 02472
Offer Price: $110
Offer Date: 01-11-2019
2007 Kia Sportage
Zip: 19144
Offer Price: $200
Offer Date: 01-11-2019
2005 Kia Sportage
Zip: 93722
Offer Price: $220
Offer Date: 01-10-2019
1999 Kia Sportage
Zip: 20010
Offer Price: $165
Offer Date: 01-10-2019
1999 Kia Sportage
Zip: 20010
Offer Price: $165
Offer Date: 01-10-2019
2007 Kia Sportage
Zip: 44130
Offer Price: $820
Offer Date: 01-09-2019
2006 Kia Sportage
Zip: 55413
Offer Price: $265
Offer Date: 01-09-2019
2000 Kia Sportage
Zip: 98335
Offer Price: $30
Offer Date: 01-07-2019
Should I Junk My Kia Sportage?
You might be wondering whether its time to sell your junk Kia Sportage to us in return to quick cash. Although we offer high rates for junk vehicles in all conditions, you may still be entertaining the idea of repairing your car before selling it on the used market. If this is the case, consider the results of a quick cost/benefit analysis first.
If you get your car appraised by one of our specialists, you have a sum you can compare against the estimated cost of repairing the vehicle with an authorized mechanic. If the cost of repair is greater than the value of the Kia Sportage, you're better off calling us right away and selling the car as-is. Get your quote today!
Call (855) 437-9728 or request a quote online to sell your Kia Sportage.