Sell My Junk Pontiac Sunfire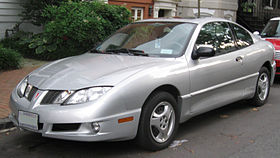 How Can I Find Out What My Junk Pontiac Sunfire is Worth?
"Will I be able to get much if I sell my car online?" The Ponatic Sunfire generally goes for between $200 and $1800 when sold to junk car buyers like us. With a curb weight of 2,605 pounds, the number and quality of functional accessories on the car matters more than its weight in scrap metal. Prices for cars with missing parts or extensive damage reflect this fact.
If you own a Pontiac Sunfire, you can get quick, reliable cash for it by selling it to us, Junk Car Medics. We usually look at the following factors when making offers on junk cars:
• The car's age;
• The car's mileage;
• Local scrap metal prices;
• The car's condition;
• The weight of the car.
All of these factors combine to create a base value for the vehicle. After this, we add in any extra value that can be salvaged from the various parts or accessories that may still be functional. In some cases, accessories that are in high demand can command a hefty price and boost the value of the junk car considerably.
Why The Pontiac Sunfire?
The Pontiac Sunfire, first released in 1995, is an entry-level compact car designed with a similar aesthetic to the Chevrolet Cavalier. The car was available in sedan, coupe and convertible variants and with extra trim possibilities. General Motors, owner of the Pontiac brand, upgraded the car in the year 2000 and once more in the year 2003, giving it a more streamlined look.
We purchase this particular model of vehicle because of the value it represents on the junk car market. The Pontiac Sunfire was known to have mechanical issues such as leaking transmission cooler lines and failed ignition modules. When we find junk vehicles that have working versions of these in-demand parts, we can pay top-dollar to salvage them for Pontiac Sunfire owners.
Recent Offers Made for Pontiac Sunfire Cars:
2004 Pontiac Sunfire

87105
$190
03-23-2023
2002 Pontiac Sunfire

95841
$430
03-12-2023
2001 Pontiac Sunfire

32608
$400
03-08-2023
2001 Pontiac Sunfire

32608
$400
03-07-2023
2001 Pontiac Sunfire

32608
$400
03-06-2023
2001 Pontiac Sunfire

32608
$400
03-05-2023
2001 Pontiac Sunfire

32608
$400
03-02-2023
2001 Pontiac Sunfire

32608
$400
03-01-2023
2001 Pontiac Sunfire

32608
$400
02-27-2023
1998 Pontiac Sunfire

85388
$465
02-06-2023
1999 Pontiac Sunfire

68138
$380
01-30-2023
2000 Pontiac Sunfire

21201
$440
01-26-2023
2003 Pontiac Sunfire

40272
$265
01-10-2023
2005 Pontiac Sunfire

76018
$360
01-08-2023
2002 Pontiac Sunfire

48228
$370
01-06-2023
Should I Sell My Junk Pontiac Sunfire For Cash?
To find out whether selling your junk Pontiac Sunfire is a good idea, you need to get an accurate appraisal on how much cash it can earn you. Thankfully, we offer exactly this service at Junk Car Medics—give us a call and ask for a quote on your junk vehicle. Once you have that figure, compare the sum with how much it would cost to completely repair your damaged vehicle.
If it turns out that the cost of repairing the vehicle is more than the price you would get for selling it outright to us, then you are almost certainly better off taking the cash offer. You can make good money and save time by not having to deal with the process of selling the car on the used market. No calls from customers, no showings or test-drives; we just come tow your car and pay you cash on the spot. Call today for more information!
Call (855) 587-0227 or request a quote online to sell your Pontiac Sunfire.